Remove the bandaids!

This article contains images or videos with watermarks. If possible, please replace them with non-watermarked media.
"Love Boat" by Jack Jones (covered by Rick Riso[1] under the name Frankie Bostello in-game) is featured on Just Dance 2014, Just Dance Now, and Just Dance Unlimited.
Appearance of the Dancer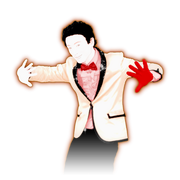 The coach is a young man. He wears a white tuxedo with black highlights which neatly covers a pink shirt, red bow tie, red glove, and red shoes. His pants and hair are black. He has a brownish outline.
Background
The coach stands on a red velvet deck near an ocean at sunset, which has a black piano behind the dancer that is missing a leg, and a microphone. It has the Just Dance logo on it. Deeper in the background is a sinking ship, which lights up during the chorus and slowly sinks throughout the choreography. At some points in the choreography, there is a couple floating on objects.
Gold Moves
Classic
There are 2 Gold Moves in this routine:
Gold Move 1: Brush off sweat from your head with your both hands.
Gold Move 2: With both hands outstretched, do a leap.
Mashup
There are 2 Gold Moves in the Mashup:
Gold Move 1: Put your left hand on your hips and raise your right hand (U Can't Touch This).
Gold Move 2: With both hands outstretched, do a leap. (Love Boat)
Love Boat has a Mashup that can only be unlocked in August.
Dancers
Love Boat
Beauty and a Beat
Good Feeling
We No Speak Americano
Moves Like Jagger
DARE
A Little Less Conversation
Fine China (Extreme)
U Can't Touch This [GM1]
Forget You
Love Boat [GM2]
Love Boat makes appearances in the following Mashups:
Party Master Mode
Love Boat has a Party Master Mode. Here are the captions that appear in order of appearance:
(Captions in bold indicate a Song Switch.)
Love Boat
Love Boat
Love Boat
Appearances in Playlists
Love Boat is featured in the following playlists:
Just Dance Now
Declare Your Love!
All Songs K-R
Trivia
Love Boat is the first song in the series to be covered by Frankie Bostello.
Love Boat is the first song in the series to be the theme song of a TV show.
According to the song's Pictograms sprite, the routine originally had a different choreography.[2]
In the background, there are two people floating on a plank of wood. They might be a representation of Jack and Rose which would be a reference to the Titanic theme.
This is the second time a Titanic-esque ship is seen sinking in a Just Dance routine, the first being in the background of Never Gonna Give You Up. A similar looking boat is also seen in Night Boat To Cairo, but it is never pictured sinking.
The JD logo appears on the piano.
Love Boat has the highest number of beta pictograms (43).
In the Mashup, some pictograms are missing during It's You's appearance.
On some covers, the song name appears as The Love Boat.
Love Boat is the third routine to end with its dancers freezing in the air; it follows Baby One More Time and Cheerleaders Boot Camp.
The dancer was intended to appear in Summer (Party Master Mode). However, it did not appear in the final game.[citation needed]
Gallery
Game Files
In-Game Screenshots
Promotional Images
Beta Elements
Others
Videos
Official Audio
Gameplays
Classic
Mashup
Party Master Mode
Extraction
References
v - e - d

Puppet/Party Master Modes