"Magical Morning" by The Just Dance Orchestra is featured on Just Dance 2020 and 舞力全开2020 as part of Kids Mode. It also appears on Just Dance Unlimited.
Appearance of the Dancers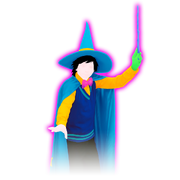 The dancer is a young male wizard, with a blue pointed hat over his black rough hair and a blue cape decorated with yellow stars on his shoulders. He wears a yellow sweater with a pink bow tie, a dark blue vest with blue line accents, black pants and black shoes. He holds a periwinkle magic wand on his gloved hand. He has a pink outline.
Briefly at the routine, he has a glowing turquoise and dark color scheme before he "wakes up" and the background changes to the morning. At the start, he wears a long yellow and blue striped long top with blue mismatched socks, one short and the other long. Throughout the routine, the coach uses his magic wand to gather his wardrobe before wearing it by his magic.
Background
The routine takes place on a bedroom, which has wooden floors and walls. The bedroom contains a blue bed,  a study desk with some books and a globe glowing faint blue light, a yellow and dark orange telescope facing through a circular window, a turquoise wardrobe closet, a brown chest and small boxes with rolled paper. On the floor is a circular tan and tangerine mat, with a tangerine star on the center. The window is shining morning sunlight into the room. A poster can be seen on the wall closest to the bed that contains the bedroom similar to the background of Friendly Phantom as well as picture frames, which contains a panda, a crescent moon and a figure with a wizard hat. Various trinkets and items such as a paper plane on the floor and hanging yellow stars can be seen.
Throughout the routine, the coach's magic is used to carry his clothing out of the box and wardrobe closet. First, he took out his slacks, and then followed by his sweater and vest, shoes and ends with his cape. The items are surrounded by a bright purple aura and briefly follows to the coach's moves before the coach wears the controlled item, which produces a cloud of purple smoke in the process. The coach disappears in a burst of purple cloud as the routine ends.
Gold Moves
There is 1 Gold Move in this routine:
Gold Move : Raise your arms upwards in a semi-circle motion while holding a wand.
Trivia
Magical Morning is the fourth song in the series to be performed by The ​Just Dance Orchestra.

It is also their second song to be an original composition instead of a cover.

The official gameplays for Cosmic Party, Freeze Please, Happy Birthday, Jungle Dances, Magical Morning and Shinobi Cat are the third, fourth, fifth, sixth, seventh, and eighth full gameplays to be uploaded to Just Dance's official YouTube channels, after Firework and Taste The Feeling (Olympic Version Community Remix).
In the US preview, a trollface on a square purple background pops up on each avatar at the beginning.
The Ubisoft Brasil channel has an unlisted preview for Magical Morning.[3]
A placeholder menu banner can be found in the Just Dance Unlimited files.[4]
Gallery
Game Files
In-Game Screenshots
Promotional Images
Behind the Scenes
Others
Videos
Gameplays
References
Community content is available under
CC-BY-SA
unless otherwise noted.