"Mas Que Nada" by Sérgio Mendes featuring The Black Eyed Peas is featured on Just Dance 4.
Appearance of the Dancer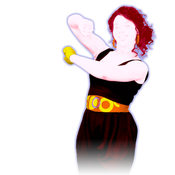 The dancer is a woman who has red hair tied up at the side. She wears some golden earrings, a brown romper, an orange belt with some yellow patterns, and a pair of red pumps.
Background
The background is light brown with a lot of tropical-themed posters and stickers such as birds, fishes, suns, guitars, silhouettes of the dancer, and flowers. Circles in various colors appear near the coach's glove.  
Gold Moves
There are 4 Gold Moves in this routine:
Gold Moves 1, 2, and 3: Put your hand in front of you with your finger pointing up.
Gold Move 4: Blow a kiss.
PS3 and Wii U 
One player gets 3 stars
One player gets 5 stars
Get 5 stars on the Dance Mash-Up
Get all Gold Moves
Get the "In rhythm" Dance style
Get GOOD when "Ooooo" is sung
Wii and Xbox 360
One player gets 3 stars
One player gets 4 stars
One player gets 5 stars
Get all Gold Moves
Get the "In rhythm" Dance style
Get GOOD when "Ooooo" is sung
Mashup
Mas Que Nada has a Mashup which is exclusive to the PS3 and Wii U.
Dancers
Mas Que Nada
Wild Wild West (Extreme)
Run the Show (Extreme)
Jungle Boogie
That's The Way (I Like It)
Airplanes
Baby Girl
Mas Que Nada
Puppet Master Mode
Mas Que Nada has a Puppet Master Mode on the Wii U. Here are the dancers in order of appearance:
Mas Que Nada
Mas Que Nada
Mas Que Nada appears in the following Mashups:
Mas Que Nada appears in Puppet Master Modes. Here are the captions attributed to its dance moves:
Make Room
Mix It Up
Salsa Girl
Trivia
General
Mas Que Nada is the second song by The Black Eyed Peas in the series.
The radio edit version of the song, which is shorter than the original by about 50 seconds, is used in-game.
In the classic routine, "Sérgio play yo" has an extra "!!!".
Classic
Mashup
The last pictogram of the classic routine is in a different shade.
The pictograms for the extreme version of Run The Show are blue with red arrows instead of light blue with yellow arrows.
Puppet Master
The classic coach appears with a fading effect instead of walking from the left.
The coach from Sweat Around The World wears a skirt, although she does not in the actual routine.

The issue with Sweat Around The World also regards the Mashup.
The part of the yellow stripe on the costume of Sweat Around The World that is covered by the skirt appears white in both Mashup and Puppet Master.
Gallery
Game Files
In-Game Screenshots
Beta Elements
Others
Videos
Official Music Video
Gameplays
Extractions
References
v - e - d

Puppet/Party Master Modes
Community content is available under
CC-BY-SA
unless otherwise noted.