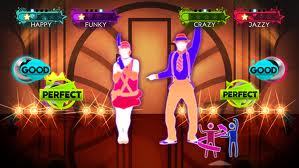 Mugsy Baloney by Charleston
The song was introduced in Just Dance 2, It is one of the instrumental only songs featured .Mugsy Baloney was later downloadable for Just Dance 3.
Facts
| Difficulty | Effort | Year | Mode |
| --- | --- | --- | --- |
| 3 | 2 | 1924 | Duet |
Gold Moves
This is one of the only songs in Just Dance that consists of more than 3 Gold Moves.2 Gold moves are put side by side and others are alone at some parts.
Differences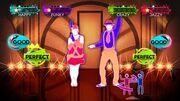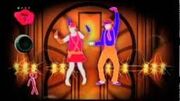 At the start (Xbox Version only) there is a spotlight moving.
The floor reflection on Just Dance 3 is darker than Just Dance 2.
In Just Dance 3 there is a little more details especially on the left and right edges.
In Just Dance 3 the place has more light while in Just Dance 2 the place is a bit dark.
Trivia
This is one of the Charleston songs that involves no singing.
If you notice at the start the avatars are black and the fade in color, and at the end the color becomes black.