"Naughty Girl" by Beyoncé is featured on Just Dance 2018, Just Dance Now, and Just Dance Unlimited. A Rabbid Peach version is available on Just Dance 2018 via Just Dance Unlimited for the Nintendo Switch only.
Appearance of the Dancer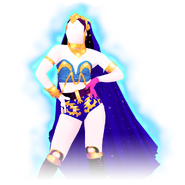 The dancer is a woman with black curly hair. She wears a long, indigo head scarf, part of which she holds in her right hand, a golden head band, a blue strapless crop top with golden accents, royal blue high waist shorts with golden accents, and purple knee high boots. She has a smoky, light blue outline.
Background
It starts off with a genie lamp with blue roses wrap around it which releases a magical blue dust which swirls and reveals the dancer then it shows that the background takes place around an Indian/Arabic style building. The routine is first seen inside with dark purple floors and walls. There is a lit up pattern on the floor and some lanterns on the ceiling. During the verses the pattern platform goes upward outside to a night sky, where there are stringed decorations and clones of the dancer with some of them on a floating platforms, while others inside the buildings. At the chorus, the outside of the building is shown, which spins and has bright blue lights, while emitting light rays. During the last chorus, as the pattern platform goes up above the dome, the moon gets bigger or up closer behind the dancer.
Gold Moves
There are 2 Gold Moves in this routine, both of which are the same:
Both Gold Moves: Bend your right arm up close to your head.
Naughty Girl is featured in the following playlists:
Just Dance 2018
Easy Peasy Party
Just Dance 2018
Princess
Just Dance Now
Hall Of Fame
All Songs K-R
Trivia
General
Naughty Girl is the fourth song by Beyoncé in the series.

It is also the second song by her to not be covered in the series.

The lyrics "I'm feelin' kind of n-a-s-t-y, I just might take you home with me...I know you want my body" are referenced in the ESRB rating summary for the game.[2]
There are some errors in the lyrics.

The second time "I'm feeling kind of n-a-s-t-y" is sung, the lyrics are misinterpreted as "You got me feelin' n-a-s-t-y".
The second time "Baby the minute I feel your energy" is sung, the I appears lowercase.
Classic
Gallery
Game Files
In-Game Screenshots
Promotional Images
Behind the Scenes
Beta Elements
Others
Videos
Official Music Video
Gameplays
References
Community content is available under
CC-BY-SA
unless otherwise noted.