"Naughty Girl" (Rabbid Peach Version) is playable on the Nintendo Switch version of Just Dance 2018 and 舞力全开2020 via Just Dance Unlimited.
Appearance of the Dancer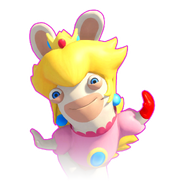 The dancer for this routine is Rabbid Peach from the game Mario & Rabbids: Kingdom Battle. She is a Rabbid with white fur and tan skin with blue eyes. She has long wild blonde hair, with has a golden crown with red and blue jewels on top of her head. She wears a light pink blouse with puffed-up sleeves and a blue gem with a golden frame on the center. Her accessories includes blue spherical earrings. She has a thin white and purple outline. During some parts of the routine, she pulls out her phone.
Background
The routine begins with Rabbid Peach standing in front of Princess Peach's Castle from Mario & Rabbids: Kingdom Battle, facing away from the camera. The routine begins at night and transitions into daytime when the first verse is sung. Later on in the routine, more Rabbids will appear in the background performing weird, crazy, Rabbid-esque activities. A few Rabbids in the background will also dance a little bit with Rabbid Peach. After the final chorus is finished Rabbid Peach will drop her phone on the ground and then run towards the camera, thus, ending the routine.
Gold Moves
There is 1 Gold Move in this routine:
Gold Move: Hold your phone in your right hand out in front of you facing slightly to the right as if you were taking a selfie.
Naughty Girl (Rabbid Peach Version) is featured in the following playlists:
Just Dance 2018
Just Dance Unlimited
Trivia
General
Rabbid Peach Version
The Rabbid Peach Version is the first routine to be completely digitally animated, and not performed by an actual dancer. 

It is also the first routine in Just Dance 2018 to have just one Gold Move, being followed by No Lie.
It also marks the second time a Mario-themed dance was created, the first being Just Mario.

However, Rabbid Peach is a Ubisoft character from the Rabbids series, being marked as a Mario character due to the crossover game Mario & Rabbids: Kingdom Battle.

It is also the second routine to have a differently styled pictogram, after Under the Sea.

An unused avatar for the Rabbid Peach Version can be found in the Just Dance World Cup archives.

Strangely, it has no sticker outline.

It was later made available on Just Dance 2019 for 7th-gen consoles, where it can be unlocked at the start if saved data from past games is present.[3]
Gallery
Game Files
In-Game Screenshots
Promotional Images
Behind the Scenes
Others
Videos
Gameplay
Others
References
v - e - d

Puppet/Party Master Modes
Community content is available under
CC-BY-SA
unless otherwise noted.