"にんじゃりばんばん" ("Ninja Re Bang Bang") by Kyary Pamyu Pamyu (きゃりーぱみゅぱみゅ) is featured on Just Dance Wii U.
Appearance of the Dancer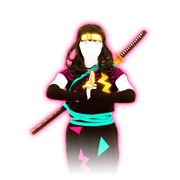 The dancer is a kunoichi, a female ninja. She has brown flowy hair and has a hachimaki wrapped on her forehead, which is made of black cloth and an orange metallic part in front. She wears a black sleeveless garb known as a shinobi shōzoku, which has a triangular cleavage cut. The garb also contains various colorful shape such as orange and hot pink zigzag lines and hot pink and turquoise triangles. Underneath her garb is a hot pink and black horizontally striped shirt. On her waist is a turquoise strap belt and on her feet are turquoise slip-on shoes with black square patterns and outline and thick white soles. She also wears a pair of black arm bands that is tied and secured around her index fingers. Lastly, she holsters a katana with a black and orange handle and a dark brown scabbard, secured by a turquoise strap across her shoulder. She has a magenta outline.
At the end of the routine, the dancer disappears as white smoke appears around her. The smoke departs to slowly reveal a tree stump with cherry blossom petals slowly falling from it.
Background
The background is a dojo with several rooms. The first room has a blue wall with ice cream-like substance and shuriken stars. That wall turns orange, and has a shuriken pattern. The second room has a wall with pink clouds and a lightning bolt. The third room has an orange wall with shuriken stars changing into birds. Next is a pow-like symbol with a color-changing backdrop, various shuriken stars, and colored clones of the dancer. After that, the dojo appears again but has slight changes to it. It has no wall, two pillars, and a blue Kyoto-like scenery with confetti and a koi fish. This rotation repeats for the next verse and chorus.
Gold Moves
There are 9 Gold Moves in this routine:
Gold Moves 1, 4, 8, and 9: Put your right arm and right leg up quickly.
Gold Moves 2 and 6: Turn your body sideways and point towards the screen with your right hand.
Gold Move 3: Bend down, put your left foot behind your right foot and point to the right.
Gold Move 5: Similar to Gold Move 3 but you point both hands in a direction so that they are visible.
Gold Move 7: Stand up straight and slam both arms down with your palms visible.
Trivia
Ninja Re Bang Bang is the third song by Kyary Pamyu Pamyu in the series.
Ninja Re Bang Bang and Proud Mary hold the tied record for the most Gold Moves in one routine, with a total of 9 Gold Moves (Gold Move 8 of Proud Mary is not accounted for score on Just Dance 2).
The outfit, choreography and some background elements were taken from the official music video.
The orange elements in the outfit are yellow and shiny in menu assets.
The pictogram for Gold Moves 2 and 6 are in a lighter shade.
The routine's code name is misspelled as "NinjaRiBangBang".
The avatar for Ninja Re Bang Bang is the second avatar, after Cutie Honey's, that includes non-facial features and accessories.
The avatar has a lime green strap instead of a turquoise strap and the katana's position is reversed, resulting facing in the other side.
There are a few spelling errors in the names of some pictograms:
Gallery
Game Files
In-Game Screenshots
Others
Videos
References
Community content is available under
CC-BY-SA
unless otherwise noted.