"One Way Or Another (Teenage Kicks)" by One Direction is featured as a DLC on Just Dance 2014 and Just Dance 2015. This song is also available in Just Dance Unlimited and Just Dance Now. 
Appearance of the Dancer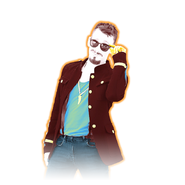 The dancer is a man with brown hair. He wears an unbuttoned brownish-red jacket, some sunglasses, a blue shirt with a white necklace, some back suspenders, a pair of blue jeans, and a pair of brown shoes. 
Background
The background displays arrows that are going left to right, up and down, diagonally, spinning around the dancer, and lighting. The background also shows numbers during the "one, two, three, four."
Gold Moves
There are 2 Gold Moves in the routine, both of which are the same:
Both Gold Moves: Cross your right arm in front of your body.
Trivia
This is the third song by Blondie in the series
This is the fourth song by One Direction to be on the Just Dance series; it follows What Makes You Beautiful, One Thing and Kiss You, and is followed by Best Song Ever and No Control.

However, it is the only one to be a cover by them.
It is the only one to be a solo routine.

The song is a cover of One Way Or Another by Blondie (who had her songs Heart Of Glass and Call Me featured on Just Dance) and Teenage Kicks by The Undertones.
This is the second song by One Direction that has ever been a DLC; it is preceded by One Thing and is followed by Kiss You, however Kiss You was a recycled DLC.
After One Thing, this is the second song by One Direction not to be a Dance Crew.
This is the sixth cover to be made by a singer/band who doesn't work for Ubisoft; it follows Toxic, Holiday, Here Comes the Hotstepper, Jump (For My Love), and Can't Take My Eyes Off You. It is followed by Ievan Polkka.
If you explore Just Dance Now files for this song, you can find a strange placeholder pictogram: it resembles two LEGO characters, with a pink helmet, a pink T-shirt, black pants and black shoes with the resolution of an 8-bit arcade game.
The menu icon has been updated after the song has been released on Just Dance Unlimited: the glass effect is removed, the background is less blurry and the purple line at the bottom is slightly thicker.
Gallery
Videos
Official Music Video
Gameplays
References