"PonPonPon" or "PON PON PON" by きゃりーぱみゅぱみゅ (Kyary Pamyu Pamyu) is featured on Just Dance Wii 2.
Dancer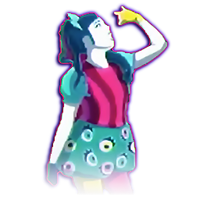 The dancer is a woman that looks similar to Kyary Pamyu Pamyu wearing turquoise baggy shorts with eyeballs and dark pink braces, a hot pink shirt, blue shoes and leggings. The leggings are yellow on her left leg and pink on her right, her hair is snake-like and her two ribbons are yellow and turquoise. She has a bold black outline.
Background
The background changes very often. Examples are striped, cartoony, hypno and it comes with various animals or items... Like eyeballs or a magnifying glass.
Gold Moves
There are 4 Gold Moves in this routine, all of which are the same.
All: Fan your face with your right hand while having your left hand of your hip (similar to Mamasita).
Trivia
This is Kyary Pamyu Pamyu's first song in this series. It is followed by Tsukematsukeru, and Ninja Re Bang Bang, both of which are featured on Just Dance Wii U.
Surprisingly, unlike several of the other routines from the Just Dance Wii series, the choreography doesn't come from the music video.

Despite this the routine uses most of the official moves.

During two portions of the routine, the lyrics do not show up even though vocals are very audibly heard.
At the end of the routine, there is a missing pictogram where the dancer does an inverted circle.
Gallery
Videos