No Man's Sky Update - The Loop
Play Sound
"Primadonna" by Marina (formerly known as Marina and The Diamonds) is featured on Just Dance 4 as a downloadable track. It later appeared on Just Dance Now and Just Dance Unlimited.
Appearance of the Dancer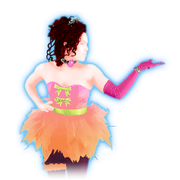 The coach is a woman resembling a princess figure. Her hair is curly and brown, in a high style with a shiny silver tiara. She wears a pink corset with two golden lime ribbons tied on her chest and a pink-orange feather skirt with a golden lime strap on the top. She also wears dark plum tights with a light orange garter on her left thigh and pinkish orange heels. Her accessories include a silver choker with a pink gem and a shiny silver bangle on her right wrist. She has a blue outline.
Background
The routine takes place in front of a giant peach-colored chandelier which is neon purple on the verses and on the last chorus, which sways and glistens during the routine. In the second part of the verses, it disappears and when the dancer points to the sides, a series of lavish luxuries, such as a present, a ring, and perfume appear.
Gold Moves
There are 3 Gold Moves in this routine:
Gold Moves 1 and 2: Raise your hands in a semicircle with your hands pose in a regal manner.
Gold Move 3: Quickly lean forward and bring your arms out.
Primadonna is featured in the following playlists:
Just Dance Now
Trivia
Primadonna is the second song by Marina in the series.

However, the new name isn't used in-game despite having the artist name changed.

The menu square uses the half-coach, leading to a fade to transparency at her legs. This is also the case with the Just Dance 4 release of Boom.
Along with Baby Girl and Die Young, Primadonna was accidentally released for a brief amount of time on the PlayStation Network during late-March 2013.
On the menus of Just Dance Now/Unlimited, the song's title was shown as PrimaDonna instead of Primadonna.

On an unknown date, the title was renamed to Primadonna in the former service.

On Just Dance Unlimited, there was a glitch with this song; after playing the song, the avatar would not get unlocked. This was later fixed.

This also occurred to Miss Understood's avatar on Just Dance Unlimited, as the avatar did not get unlocked after playing the song either.

On camera consoles, Gold Moves 1 and 2 as described by the pictograms are counted as a regular move; the move done afterward (described with a normal pictogram) is counted as the Gold Move instead.
Some of Primadonna's pictograms have a very small grey pixel on one of their arms.
On Just Dance Now/Unlimited, several lyrics were separated into two lines that were not separated on Just Dance 4.
Gallery
Game Files
In-Game Screenshots
Behind the Scenes
Others
Videos
Official Music Video
Gameplays
References