New Pokemon Games - The Loop
Play Sound
| | |
| --- | --- |
| | This article is a stub. You could help this Wiki by expanding it. |
I wonder where were you...

This page concerns content that has been shelved or removed from the series. Before updating this article, please ensure the veracity and verifiability of the information. Remember to cite your sources.
"青春修炼手册 (Qing Chun Xiu Lian Shou Ce)" (also known as "Youth Training Manual", "Manual of Youth", and "Practise Book For Youth") by TFBoys was planned to be on 舞力全开:活力派 but was never released into the game before the shutdown of the game.
Appearance of the Dancer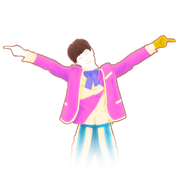 The coach is a boy with short brown hair who appears to be a school boy. He wears a magenta jacket, a purple bow, a cream yellow T-shirt with a magenta triangle, a pair of cobalt and cream yellow striped pants, and magenta sneakers.
At a few points of the routine, his skin turns black, and his clothes change color as well; the jacket turns yellow, the glove turns purple, the bow turns magenta, the T-shirt turns purple and yellow, his pants turn purple and aqua, and his shoes turn yellow.
Background
The background appears to be a desk in a children's room with items such as a skateboard, books, a rocket, a basketball, some crayons and other stuff. The dancer seems to be dancing on an open book with a circle in the center. During some parts, such as the pre-chorus, the background becomes dark, and the items turn neon and constantly change color.
Gold Moves
There are 3 Gold Moves in this routine:
Gold Moves 1 and 2: Open your arms down, and hop with your right knee.
Gold Move 3: Stretch your right arm towards the screen while putting your left hand on your chest.
Trivia
The song's original title is Manual of Youth.
Chiwawa's skirt appears in the background as a rubik's cube.
At a few points of the routine, the coach's glove glitches to black.

Additionally, it sometimes glitches to pink

There is a Beta Gold Move in the pictogram files that depicts Gold Move 3 but facing in the opposite direction.
The group's name is stylized as "TFBOYS" in-game.
Gallery
Game Files
In-Game Screenshots
Beta Elements
Videos
References