(17 intermediate revisions by one other user not shown)
Line 28:
Line 28:
 

|choreo =

 

|choreo =

 

|perf = [[:Category:Kenj'y Keass|Kenj'y Keass]]

 

|perf = [[:Category:Kenj'y Keass|Kenj'y Keass]]

−

}}'''"Shape of You"''' by {{Wp|Ed Sheeran}} is featured in {{G|2018}}, {{G|now}}, and {{G|jdu}}.

+

}}'''"Shape of You"''' by {{Wp|Ed Sheeran}} is featured in {{G|2018}}, {{G|now}},and {{G|jdu}}.

 
 
 

==Appearance of the Dancer==

 

==Appearance of the Dancer==

 

[[File:ShapeOfYou Coach 1.png|left|175px]]

 

[[File:ShapeOfYou Coach 1.png|left|175px]]

−

The dancer is a man with short black hair. He is wearing a button down shirt which is burgundy in the upper half and yellow in the bottom half, a dark green jacket, black pants, turquoise socks, and purple shoes with white soles.

+

The dancer is a man with short black hair. He is wearing a button down shirt which is burgundy in the upper half and yellow in the bottom half, a dark green jacket, black pants, turquoise socks, and purple shoes with white soles.

 
 
 

{{clear}}

 

{{clear}}

Line 50:
Line 50:
 

Shapeofyou gm 2.gif|Gold Move 2 ''in-game''

 

Shapeofyou gm 2.gif|Gold Move 2 ''in-game''

 

</gallery>

 

</gallery>

 
+
 
+
 
+

==Appearances in Playlists==

 
+

''{{PAGENAME}}'' is featured in the following playlists:

 
+
 
+

==={{G2|2019}}===

 
+

*Declare Your Love!

 
+

*The 2010s Were Banging

 
+

==={{G2|now}}===

 
+

*Declare Your Love!

 
+

*All Songs S-Z

 
 
 

==Trivia==

 

==Trivia==

 
+

*''{{PAGENAME}}'' is the first [[:Category:Songs by Ed Sheeran|song by Ed Sheeran]] in the series.

 

*''Shape of You'' was leaked on the Just Dance Brazil website.<ref>https://web.archive.org/web/20170912103652/https://just-dance.ubisoft.com/pt-br/news/detail.aspx?c=tcm:181-301048-16&ct=tcm:181-76770-32</ref> As of September 15, 2017, the song has been removed from the website.

 

*''Shape of You'' was leaked on the Just Dance Brazil website.<ref>https://web.archive.org/web/20170912103652/https://just-dance.ubisoft.com/pt-br/news/detail.aspx?c=tcm:181-301048-16&ct=tcm:181-76770-32</ref> As of September 15, 2017, the song has been removed from the website.

 

*''Shape of You'' was confirmed to be in the game when a popular Brazilian store released the game cover for {{G2|2018}} with ''Shape of You'' listed on it.<ref>https://www.americanas.com.br/produto/132597081/game-just-dance-2018-ps4</ref>

 

*''Shape of You'' was confirmed to be in the game when a popular Brazilian store released the game cover for {{G2|2018}} with ''Shape of You'' listed on it.<ref>https://www.americanas.com.br/produto/132597081/game-just-dance-2018-ps4</ref>

Line 66:
Line 78:
 

shapeofyou_banner_bkg.png|{{G2|2018}} menu banner

 

shapeofyou_banner_bkg.png|{{G2|2018}} menu banner

 

ShapeOfYou_Albumbkg.png|{{G2|2018}} album background

 

ShapeOfYou_Albumbkg.png|{{G2|2018}} album background

 
+

ShapeOfYou_BC.jpg|{{g|now}} cover

 
+

ShapeOfYou_Cover_1024.png|{{g|jdu}} cover

 

Shapeofyou p1 ava.png|Avatar

 

Shapeofyou p1 ava.png|Avatar

 

ShapeOfYou_pictos-sprite.png|Pictograms

 

ShapeOfYou_pictos-sprite.png|Pictograms

Line 111:
Line 125:
 

<gallery widths="318" position="center" spacing="small" bordercolor="transparent" hideaddbutton="true">

 

<gallery widths="318" position="center" spacing="small" bordercolor="transparent" hideaddbutton="true">

 

Ed Sheeran - Shape of You Official Video

 

Ed Sheeran - Shape of You Official Video

 
⚫
 

</gallery>

 

</gallery>

 

===Teasers===

 

===Teasers===

Line 119:
Line 134:
 

===Gameplays===

 

===Gameplays===

 

<gallery widths="318" position="center" spacing="small" bordercolor="transparent" hideaddbutton="true">

 

<gallery widths="318" position="center" spacing="small" bordercolor="transparent" hideaddbutton="true">

−

Shape of You - Just Dance 2018

+

Shape You - Just Dance 2018

⚫
 
 

Shape of You - Just Dance Now

 

Shape of You - Just Dance Now

 
+

Shape Of You - Just Dance 2019

 

</gallery>

 

</gallery>

 
 
Line 142:
Line 157:
 

[[Category:Solo Males]]

 

[[Category:Solo Males]]

 

[[Category:Easy Songs]]

 

[[Category:Easy Songs]]

 
+

[[Category:Calm Songs]]

 

[[Category:Songs in Just Dance 2018]]

 

[[Category:Songs in Just Dance 2018]]

 

[[Category:Songs in Just Dance Now]]

 

[[Category:Songs in Just Dance Now]]

 
+

[[Category:Songs in Just Dance Unlimited]]

 
+

[[Category:Songs with avatars in Just Dance 2018]]

 
+

[[Category:Songs with avatars in Just Dance Now]]

 

[[Category:Kenj'y Keass]]

 

[[Category:Kenj'y Keass]]

 

[[Category:Removed from Kids Mode]]

 

[[Category:Removed from Kids Mode]]

 
+

[[Category:Songs by Ed Sheeran]]
---
Revision as of 16:59, 26 October 2019
"Shape of You" by Ed Sheeran is featured in Just Dance 2018, Just Dance Now, and Just Dance Unlimited.
Appearance of the Dancer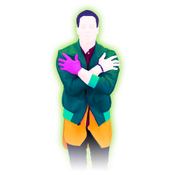 The dancer is a man with short black hair. He is wearing a button down shirt which is burgundy in the upper half and yellow in the bottom half, a dark green jacket, black pants, turquoise socks, and some purple shoes with white soles.
Background
The background is an arrangement of squares and small pixels. They shift and float around while giving the backdrop color a bright highlight. The color of the background slowly shifts between teal, yellow, dark blue, purple with pink highlights, seafoam green, ocean blue, and rosy red. The dancer will create some pixels of his own at some points. He fades into squares at the end of the song.
Gold Moves
There are 3 Gold Moves in this routine:
Gold Moves 1 and 3: Lean to the left and nod your head while slowly throwing your arms out with your right hand in front of you and your left hand behind.
Gold Move 2: Point to the screen with both hands, with your left arm close to your chest.
Appearances in Playlists
Shape of You is featured in the following playlists:
Just Dance 2019
Declare Your Love!
The 2010s Were Banging
Just Dance Now
Declare Your Love!
All Songs S-Z
Trivia
Shape of You is the first song by Ed Sheeran in the series.
Shape of You was leaked on the Just Dance Brazil website.[1] As of September 15, 2017, the song has been removed from the website.
Shape of You was confirmed to be in the game when a popular Brazilian store released the game cover for Just Dance 2018 with Shape of You listed on it.[2]

Further evidence that the song was to be in the game can be found in the Just Dance 2018 game page on the Xbox website and in the opening for the game demo.[3]

Shape of You, along with Instruction, has unused files for Kids Mode squares in the game archives.

A placeholder square with "Kids" written in a rainbow font can be found in the game files.
Gallery
Game Files
In-Game Screenshots
Promotional Images
Behind the Scenes
For the complete Behind the Scenes video, see File:Shape of You - Behind the Scenes (US).
Beta Elements
Others
Videos
Official Music Video
Gameplays
Behind the Scenes
References