"Skin-To-Skin" by Sweat Invaders was featured as a downloadable track on Just Dance 2 and the Wii version of Just Dance 3 as a downloadable track, but became unavailable for purchase following the shutdown of the Wii Shop Channel on January 30, 2019. The song remains playable on Just Dance: Summer Party and the Xbox 360 version of Just Dance 3.
Appearance of the Dancer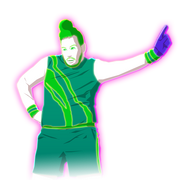 The dancer is a slightly chubby man who has light green hair in a bun. He wears a dark green tank-top with some light green curved lines. He also wears a pair of dark green shorts that have a light green outline. His glove is dark blue with a light blue aura. Finally, he wears a pair of long dark green socks with light green stripes and a pair of light green shoes.
Background
The background is a dark purple room with several colored lines. It also has triangles that flash throughout the song. The dancer dances on a platform-like floor which also flashes throughout the song. In Just Dance 3, the background is more animated.
Gold Moves
There are 4 Gold Moves in this routine, all of which are the same:
All Gold Moves: Slowly make a circle with both of your hands.
Skin-To-Skin appears in the following Mashups:
Skin-To-Skin appears in Puppet Master Modes in Just Dance 4. Here are the captions attributed to his dance moves:
Bring It Back
Heavy Punch
Knees Up
Point 'N' Punch
Push Down
Step Clap
Stretch 'N' Point
Trivia
General
Skin-To-Skin is the first song by Sweat Invaders that is not a cover.

It is also the only original song by Sweat Invaders to be in Just Dance 2.

Despite the song having spoken words, these does not appear in the lyrics.

However, on iTunes and Spotify releases, the song is completely instrumental, without any vocals.

The "singer" describes the moves the coach does, a feature that would later be seen in Just Sweat programs in Just Dance 4 (most notably Electro Body Combat).
Routine
Skin-To-Skin holds the record for the longest continuous appearance in a single Mashup: he lasts for 45 seconds in Jump (For My Love)'s Sweat Mashup.
Along with Alright, Skin-To-Skin is one of the only routines from Just Dance 2 that has not been found in the Just Dance Now files yet.
Before he starts to punch, the coach messes up with his footing.
The arrows of the pictograms are purple, despite the fact that the coach's glove is blue.
In the menu assets of all games that feature Skin-To-Skin, the coach's glove is more electric purple than blue.
In Just Dance 2 and Summer Party, the coach is edited in order to make him stay in the middle of the screen.

This does not happen in Just Dance 3.

In the Just Dance 3 version of the routine, two pictograms of the routine have incorrect coloring: the white shading should be placed around their head and forearms, but it is placed more under.

This does not happen in Just Dance 2 because that part of the routine has completely different pictograms in that game.

In Just Dance 3, Skin-To-Skin is not included in the DLC Packs featuring the Sweat Invaders' songs from that game.
Skin-To-Skin is featured in a Just Dance 3 DLC Pack named "St. Valentine's Day", along with Why Oh Why and Katti Kalandal, even though the routine is not love-themed.
In the Xbox 360 version of Just Dance 3, the coach is reversed on the coach selection screen.
Gallery
Game Files
In-Game Screenshots
Promotional Images
Others
Videos
Official Audio
Gameplays
Extractions
References
Community content is available under
CC-BY-SA
unless otherwise noted.