New Pokemon Games - The Loop
Play Sound
"Smalltown Boy" by Bronski Beat is featured on Just Dance 2022 and 舞力无限.
Appearance of the Dancer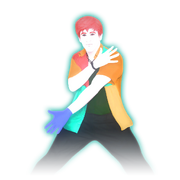 The coach is a man with pinkish red hair styled in a mop-top and with thick eyebrows. He wears an open multi-colored jacket, with rectangular-shaped colored sections in the front of his jacket. The upper left section is colored pinkish red, the lower left and upper right sections is colored bright cyan, and the lower right section is colored yellow, with the rest of the jacket colored light orange. He also wears a dark green sleeveless undershirt, a pair of black slacks, and black shoes with black laces. He also wears a black chain necklace and a black wristband in his left wrist. His glove is light blue and he has a light green outline.
Background

This section is a stub. You can help by adding to it.
The routine starts at a roadway with lampposts and telephone wires beyond the background with glares of light shining in, the lampposts flicker on beat with the coach during the second verse. In the first verse, it takes place that looks similar to a parking lot, people can be seen walking in the background. At the chorus, it takes place at a train station platform with a train coming in passing the platform, the second verse goes back to the roadway.
Gold Moves
There are 3 Gold Moves in this routine:
Gold Move 1: Move to the left and put your right hand on your head.
Gold Move 2: Move to the left and put your right hand behind your back.
Gold Move 3: Shake your right arm down while moving your legs.
Trivia
The following editing mistakes can be noticed in some pictograms:

In the pictogram for Gold Move 1, the semitransparent part has a white glow instead of a golden one, and its bottom has been accidentally cut out.
In the pictogram for Gold Move 2, the semitransparent part has some additional glow that overlaps with the main one.

When Smalltown Boy was first revealed, the thumbnail for the preview on the Just Dance UK YouTube channel showed the Chinese logo of Just Dance 2022 instead of the regular logo.

The thumbnail was fixed later that day.
In the fixed thumbnail, the left promotional coach is more zoomed in.
Gallery
Game Files
In-Game Screenshots
Others
Videos
Official Music Video
Gameplay
References