"Stadium Flow" by Imposs is featured on Just Dance 2016, Just Dance Now, Just Dance Unlimited, and 舞力全开:活力派.
Appearance of the Dancer
Classic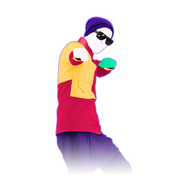 The dancer is a man who is wearing a pair of sunglasses, a dark purple beanie, a yellow and red button down pullover, dark purple drop-crotch trousers, and black boots with straps.
Fanmade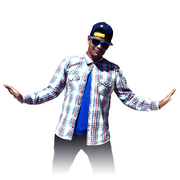 The fanmade coach (Allison Rodrigues) is a dark-skinned teenage boy. He wears a navy and golden reversed cap, sunglasses, a grey checkered button-up shirt with a blue T-shirt underneath, black jeans, and a pair of grey and black sneakers.
Background
Classic
The background contains various colors. These colors include turquoise, orange and dark purple. It changes colors at various parts of the song, and the word Imposs appears throughout the song. It also includes a few patterns, such as stripes, diamonds, rectangles, and a tiger print.
Fanmade
Allison is dancing on a concrete terrace. Behind is an electrical cord and two satellite dishes. Around the scenery is the Fanmade Dance template, containing Allison's Am I Wrong avatar and the Brazilian flag.
Gold Moves
Classic
There are 2 Gold Moves in this routine, both of which are the same:
Both Gold Moves: Put your hand down from across your left shoulder.
Mashup
There are 5 Gold Moves in the Mashup:
Gold Moves 1 and 2: Slowly bring both your hands down in a side-curve motion. (Super Bass)
Gold Moves 3 and 5: Raise your hands up quickly in a semi-circle. (Wild)
Gold Move 4: Spin your hands in the air and spin your waist. (Can't Get Enough)
Fanmade
There are 2 Gold Moves in the Fanmade routine:
Gold Move 1: Make a circle with your right arm as if you're playing an air guitar.
Gold Move 2: Same as Gold Move 1, but it must be done while jumping.
Stadium Flow has a Mashup with the theme High Energy Girls. It is exclusive to the PAL region. It features energetic female dancers.
Dancers
Super Bass [GM1]
Oh No!
Break Free
Addicted To You
Danse (Pop Version)
Feel So Right
Super Bass [GM2]
Hit The Lights
Oh No!
Flashdance ... What A Feeling
Wild [GM3]
Can't Get Enough [GM4]
Hit The Lights
Can't Get Enough
Wild [GM5]
Stadium Flow appears in the following Mashup:
Classic
Stadium Flow appears in Party Master Modes on Just Dance 2016. Here are the captions for his dance moves:
Cross And Chill
Dragon Bite
Hip Hop Show
I am so good I can jump
Yo Yo Yo
Appearances in Playlists
Stadium Flow is featured in the following playlists:
Just Dance Now
Trivia
General
Stadium Flow is the third song by Imposs in the series.

This is the first of his appearances to not have a featuring artist.
Also, all three are available on Just Dance 2016 with Uplay.

Stadium Flow is the fourth song that was produced by Ubisoft to have a music video, along with Dance All Nite, Jamaican Dance, Miss Understood, and Feel So Right.
The Beatles, Superman, and Don Cheadle are referenced in the lyrics for this song.
Stadium Flow was used as the background theme for the official Just Dance 2016 release advert.[1]
The song has been shortened by thirteen seconds for the game.
The song used in the game is different from the official version of the song.
Stadium Flow is the second song on the official UBI LOUD YouTube channel to feature the full gameplay, after You're On My Mind.
Classic
In an episode of season four of Ray Donovan, the routine, along with Chiwawa's routine, makes an appearance.[4]
In the offical gameplay upload, the star sounds are cut short.
Mashup
The Mashup's theme is almost identical to the theme of Hangover (BaBaBa)'s Mashup.
In the coach selection menu of the Mashup, You Make Me Feel... does not have the transparent fading transition like with other coach selection menus.
When Idealistic makes an appearance in the Mashup, no moves are counted for it.
Although the Mashup is exclusive to the PAL versions of Just Dance 2016 for all consoles, the Mashup was found in the files of the NTSC versions of the game for the Wii and Wii U.
Fanmade
Gallery
Game Files
In-Game Screenshots
Promotional Images
Behind the Scenes
Others
Videos
Official Audio
Gameplays
Classic
Fanmade
Mashup
Extraction
References
v - e - d

Puppet/Party Master Modes
Community content is available under
CC-BY-SA
unless otherwise noted.