Remove the bandaids!

This article contains images or videos with watermarks. If possible, please replace them with non-watermarked media.
"Summer" by Calvin Harris is featured on Just Dance 2015, 舞力全开2015, Just Dance Unlimited, and Just Dance Now.
Appearance of the Dancers
Classic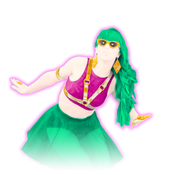 The dancer is a woman with jade green hair in braids, golden sunglasses, a gold ring, gold diamond-shaped earrings, a pink sports bra with gold straps around it, a jade transparent skirt with dark green (seen to be green from the skirt) sequin underwear, and pink lace up heels.

Fitness Dance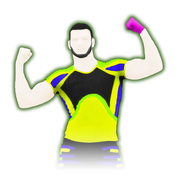 The fitness dancer is a man with short black hair and a beard, a green and black shirt with some yellow and blue stripes, and blue and black pants with green triangles and yellow stripes, black socks, and yellow shoes.

Background
Classic
The background has shiny vertical lines that have blue and yellow triangles moving around in them, thin horizontal lines, and highlighting circles.
Fitness Dance
The dancer is standing on a marathon track (the track in Just Dance 2014 Sweat routines) that flashes in bouts of red and cyan. The numbers 4, 5, and 6 can be partially seen when the track is lighted up.
Gold Moves
Classic
There are 5 Gold Moves in the Classic routine:
Gold Moves 1, 3, and 5: Move your right hand quickly in a semi-circle going to the right whilst taking a wide step towards the left.
Gold Moves 2 and 4: Touch your left leg with your right hand with force while kicking behind.
Fitness Dance
There are 5 Gold Moves in the Fitness routine, all of which are the same:
All Gold Moves: Leap with your legs spread out and throw your arms in the air.
Mashup
There are 5 Gold Moves in the Mashup:
Gold Moves 1 and 4: Bend your wrists with your fingers pointing to the ground. (Good Girl)
Gold Moves 2 and 5: Cover your chest with your right hand such that it makes contact with your left shoulder. (California Gurls)
Gold Move 3: Move your arms a little slowly from the middle of your body to the upper thigh. (American Girl)
Mashup
Summer has an unlockable Mashup with the theme Girl Power and only features female coaches.
Dancers
[GM#] - indicates a Gold Move. The # refers to the Gold Move's number.
Summer
Good Girl [GM1]
California Gurls [GM2]
American Girl [GM3]
Mr. Saxobeat
Good Girl [GM4]
You Make Me Feel...
So Glamorous
On the Floor
California Gurls [GM5]
So Glamorous
On the Floor
Good Girl
You Make Me Feel...
California Gurls
Summer
Summer has a Community Remix. The following are featured:
Draketastic [USA]
JoeMario37 [USA]
hollsz [Hungary]
Gypsy Wylde [Canada]
daniela0403 [Chile]
IMZeeLOUZAh [Canada]
Vitorhcl [Brazil]
OriginalMNH [South Africa]
aurorashlie [USA]
Cruzader4Ever [Chile]
AyuU-p-U [Japan]
TyingGoldfish97 [Mexico]
JuanPabloB10 [Colombia]
jkinsey3869 [USA]
saxa111 [Russia]
BeluMolina [Chile]
KelvinJaeder [Brazil]
philipeboy [Brazil]
Kepin93 [USA]
chapie69 [UK]
wiilinski [Netherlands]
KenFiveTwelve [USA]
UniformLace1467 [USA]
JHONYSUTRA [Brazil]
Francision69 [USA]
JonathanGrey [USA]
PhobicTester582 [Brazil]
Party Master Mode
Summer has a Party Master Mode. Here are the captions listed in order of appearance. (Captions in bold indicate a Song Switch)
Summer appears in the following Mashups:
Classic
Fitness Dance
Summer appears in Party Master Modes. Here are the captions attributed to their dance moves:
Classic
Green bandage (Sometimes misspelled as Green bondage)
Summer Steps
Wild Braid
Fitness Dance
Cardio Training
Fitness Clap
Summer appears in the following Dance Quest maps:
Classic
Summer is featured in the following playlists:
Classic
Just Dance 2019
The 2010s Were Banging
Summer Vibes
Just Dance Now
Recommended For You
The Best of 2000s!
Your First Dance
Just Dance Billboard!
Celebrate Fasion Week
Summer Vibes
All Songs S-Z
Just Dance Unlimited
Sweat Version
Just Dance 2019
Just Dance Now
Workout With Style
Fitness
All Songs S-Z
Just Dance Unlimited
Trivia
General
Summer is the third song by Calvin Harris in the series.
The last chorus has been slightly cut in-game.
Ubisoft used to tease their fans about a game before its confirmation by pictures being shadows of dancers, with links that would redirect to the official Just Dance game site. Every link had a marker - the link from teasing picture of Summer had this one: ?utm_campaign=dm_6Jun2014_jd2015_e3trackteasesummer - .
Summer is one of the songs selected for the Just Dance 2015 World Cup.[2]
Classic
In the E3 2014 version of the routine, the sound effect in the end was not finished yet, and there was also a moment with extra sound before the songs started.[3]

Besides, an intermittent glow flashed around the coach's body during the second verse.

In the trailer and first appearance of the song, pictograms were simpler. The Gamescom version has more sophisticated pictograms.
When using the Just Dance Controller app in Just Dance Unlimited, the moves are not tracked well.[citation needed]
Fitness Dance
In the game files of Just Dance 2015 and Just Dance 2016, there is an extraction of the coach with a blue glow instead of a lime green one. This extraction is only used in Party Masters or Mashups.
The coach could be seen in the Beta "Sweat & Playlists" section of Just Dance 2016. [4]
On Just Dance Now, the Fitness Dance starts as soon as the loading screen fades away.

Besides, one of the pictograms appears duplicated.

On June 21, 2016, Summer was free on Just Dance Now to commemorate Summer Day.
Mashup
Summer (Mashup) is the only Mashup in Just Dance 2015 and beyond to display the Classic coach on the menu icon and to reuse the Classic coach selection image.

However, the coach is in her coach selection pose.
Gallery
Game Files
In-Game Screenshots
Promotional Images
Behind the Scenes
Beta Elements
Others
Videos
Official Music Video
Gameplays
Classic
Fitness Dance
Others
References
v - e - d

Puppet/Party Master Modes
Community content is available under
CC-BY-SA
unless otherwise noted.