"Talk" by Khalid is featured on Just Dance 2020 and Just Dance Now.
Appearance of the Dancers
Classic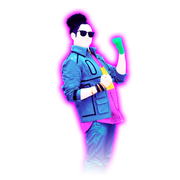 The coach is a man with thick black hair tied on a large bun on the top. He wears a magenta buttoned shirt with a yellow midsection and collars and a blue jacket with black lines and accents, two pockets on each side and black and blue cuffs on the arms. He also wears blue jeans, purple ankle-length socks and yellow sneakers with black and turquoise accents, black shoe laces and white thick soles. His accessories includes a pair of black square sunglasses and black and yellow bands on the left wrist. He has a pinkish magenta outline.
Extreme Version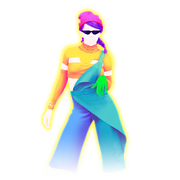 The coach is a woman with stiff purple braided hair positioned on the right side. She wears a hot pink beanie with a golden clip on the left side and a custom made outfit consisting of a bright orange long sleeved cropped sweater and light blue overalls with baggy pants. The sweater has cuts on the midsection area of her arms and on the regions above her chest. The top half of the overalls only has a strap on her right shoulder and is suspended by a strap on her waist, with the rest of the fabric attached on the right side of her pants. On her feet, she wears bright orange socks and shoes with golden chains wrapping around her shoes. Her shoes also has pink, hot pink, dark blue and bright turquoise green accents. For her accessories, she wears golden chains on her left wrist and on her neck and black sharp sunglasses. She has a yellow outline.
Background
Classic
The background is a plain setting that changes color throughout the course of the song. It has the word "Talk" written in big block letters. Sometimes, the "Talk" is split into different shapes. During the "I've never felt like this before" verse, a bunch of cubes comes in with the title inside it.
Extreme Version
The background uses the template from the Classic background but has different filters in them, similar to the extreme versions of Despacito, Bang Bang Bang, and Finesse (Remix). Sometimes the background is split into these filters, and sometimes each filter has the entire background. The filters would sometimes extend outwards. 
Gold Moves
Classic
There is 1 Gold Move in the Classic routine:
Gold Move: Put your right arm on your left shoulder, while your left arm is on your left hip.
Extreme Version
There is 1 Gold Move in the Extreme routine:
Gold Move: Spin around in a circle to the left.
Talk is featured in the following playlists:
Classic
Just Dance 2020
Declare Your Love!
Hey Handsome!
15-Minute Soft Workout
30-Minute Soft Workout
Simple Dances
Just Dance Now
Just Dance From Home!
2020 Party Starter!
Easy Peasy Party
All Songs S-Z
Extreme Version
Just Dance Now
Trivia
General
The line: "Lend me your thoughts" is misinterpreted as "Let me out first" in the lyrics.
Classic
Playing Talk three times unlocks the Happy sticker.
Talk was planned to be in the demo version of Just Dance 2020, but it was replaced with Fancy Footwork.

Talk was later put back in after a glitch with Fancy Footwork had been fixed.

When Just Dance announced the launch of the Just Dance 2020 demo on their official Twitter account, Khalid's name was misspelled as "Kahlid".[3]
Extreme Version
With 121 pictograms, Talk (Extreme Version) holds the record for the highest number of unique pictograms in Just Dance 2020.
The coach appears in Skibidi's background.
The album background features the glass effect from Just Dance 2014.
One pictogram references Michael Jackson.[4]
Part of the coach's pants occasionally turn from blue to green.
Playing Talk Extreme Version three times in Just Dance 2020 unlocks the "GREAT" sticker from Just Dance.
Gallery
Game Files
In-Game Screenshots
Promotional Images
Behind The Scenes
Others
Videos
Official Music Video
Gameplays
Classic
Extreme Version
Extractions
Classic
References
v - e - d

Puppet/Party Master Modes
Community content is available under
CC-BY-SA
unless otherwise noted.