Raise a Floppa - The Loop
Play Sound
I wonder where were you...

This page concerns content that has been shelved or removed from the series. Before updating this article, please ensure the veracity and verifiability of the information. Remember to cite your sources.
"Tamta dziewczyna" by Sylwia Grzeszczak was supposed to be featured on Just Dance 2018, but was later scrapped due to unknown reasons.[2] Files for the song can be found in the files of Just Dance Unlimited[3] and 舞力无限.[4]
Appearance of the Dancer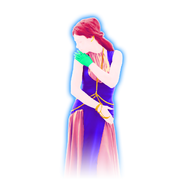 C1
The coach is a woman with dark red hair in a half-up braided style. She wears an indigo sleeveless top with golden chains attached on the center of her abdomen, with the chains originating from her lower back. She also wears a pink skirt, as well as black booties. She also wears some golden neck embellishments. Her glove is turquoise. She has a blue outline.
C2
During the chorus the dancer changes her outfit. She has now long, dark hair tied in a braid. She wears a golden, one-sleeved top and blue pants. She accessorizes with gold bracelets and a golden necklace. She wears the same boots as in her C1 form. Her glove is pink. She has a yellow, fire-like outline that later changes to blue.
Background

This section is a stub. You can help by adding to it.
The routine begins in a colorless building with patterns on the floor and many open passways across two stories behind the coach whomst is in her starting pose, the coach's color is also faded. As the coach's color returns, the building glows up then becomes a blue hologram of the colorless one. The floor and interiors of the building also glow up and flash sporadically in wave patterns. For the chorus, the building fades and the setting is now a desert with some ancient ruins. The outline of the building from previously can be seen when it flashes to the beat occasionally. The night falls shortly after. There is a large planet and comets can be seen falling from the sky. The building then returns and continues the previous flashing patterns from before. At the end of the routine, the coach's colors fade and the building becomes colorless once again. Throughout the routine, the building's hologram appears in three different colors. It is blue during the first verse and ending, gold during the second verse's first half, and it also appears in a nebula-like color scheme during the bridge where circles and lines of the same color scheme appear on the building and around the coach.
Gold Moves
There are 2 Gold Moves in this routine:
Gold Move 1: Raise your right arm while sliding towards the right.
Gold Move 2: Bring your arms in front of your chest.
Trivia
Gallery
Game Files
Beta Elements
Behind the Scenes
Videos
References