Fire Emblem Warriors: Three Hopes - The Loop
Play Sound
"Taste The Feeling" (Olympic Version) is playable on Just Dance Unlimited and Just Dance Now.
Appearance of the Dancer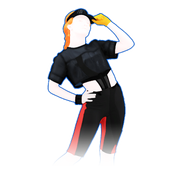 The dancer is a woman with blonde hair who appears to be a sports coach. She wears a black visor, a black cropped short-sleeve shirt, black shoes, and black pants with red stripes. She has her hair in a ponytail. During the bridge, the black parts turn grey.
Background
The routine is mainly red, and also has some elements from This Is How We Do, such as colorful lines and a rectangular sport field. At some points, a twisted race track appears colored in white, yellow, green and blue and it has copies of the coaches, each with their respective colors. During the bridge, it is black with white and red elements.
Gold Moves
There are 3 Gold Moves in this routine, all of which are the same:
All Gold Moves: Point with your right hand to the sky.
Taste The Feeling (Olympic Version) has a Community Remix. The following are featured:
(No repeats)
MashaNoble33 (USA)
KuchikkiRafael (Brazil)
I3lak N Chr0me (USA)
Draketastic (USA)
Katdri (Colombia)
Dion Visser (Netherlands)
SlushyToaster73 (Chile)
JoeMario37 (USA)
erich21 (Romania)
ludmilalv17 (Brazil)
StahL (France)
Gabthenostalgic (Canada)
FramedParsley66 (USA)
ImpulsePark6814 (USA)
FrancescoDDJ (Italia)
robertokirby386 (USA)
XxGenesisMCxX (Spain)
ridecoasters (USA)
petrus2003010513 (USA)
JustDancerLeny (USA)
Leodannwo (Peru)
crazyresident (USA)
fablesodre1988 (Brazil)
IcartoonSims (Brazil)
klove1927 (USA)
RAS310 (USA)
LoBo6566 (Colombia)
kingAngel_29 (USA)
maquedaelias14 (Mexico)
ChangeStqrK (Argentina)
Layna16 (USA)
AlyssaCaz123 (USA)
DecidedBarley33 (USA)
Starfire1978 (USA)
ZOMBSLAYERxx (USA)
urinyan (Japan)
HImmelDrAg0n (Germany)
CarlosShadow7 (Portugal)
War Dragonz (USA)
rdsggtino (USA)
EnrlGS (Mexico)
ConveningAlloy1 (Mexico)
vivien5351 (Germany)
nijishoujo (USA)
littlesiha (USA)
NachoMdE70 (USA)
morales360bkn (Chile)
Julia Hazama 11 (Brazil)
kittykuma (USA)
SoToSendoCadu (Brazil)
william e lucas (Brazil)
CJTito (Colombia)
vampire_94 (USA)
luanzink (Brazil)
Ciel Dezu! (Mexico)
Dannyboii_007 (USA)
bencase (UK)
PainedKetchup68 (Russia)
X-EricDraven- (Italia)
goncalojm14 (Portugal)
rackup24 (USA)
Kyusweetxcandy (Chile)
CrummyMoon8236 (Mexico)
Israelwolf13 (Spain)
Prismatize (Germany)
CLAUDIAND 1402 (Brazil)
PetrJasinek (Brazil)
sonicowo (Mexico)
DerpyHoovez98 (Argentina)
ShaneClough (UK)
GiannisInLove (Greece)
FrontalBarrel85 (USA)
lukasssassin (Brazil)
Dangerniel (Germany)
Celeste91 (USA)
mileneykeving (Mexico)
HIgordam (Brazil)
Taste The Feeling (Olympic Version) is featured in the following playlists:
Just Dance Now
Trivia
General
Main article: Taste The Feeling#General
Routine
Taste The Feeling is the first Just Dance Unlimited track to have an alternate routine.

It is also the first song not from the main track list of any game to have an alternate routine.

This is the fourth alternate routine in the series to simply be labeled as Alternate, after Call Me Maybe, Can't Take My Eyes Off You, and Applause.

However, it was renamed to Olympic Version later.

On July 11, 2016, this routine replaced the Classic routine as the only free song of Just Dance Now.
On Just Dance Unlimited, there is an error where two white dots appear in the top corners of the album coach image of the alternate routine.[3] This was later fixed.
Community Remix
Taste The Feeling is the third song whose alternate routine has a Community Remix, after Bad Romance and Animals.
On September 20, 2016, Just Dance's British YouTube account uploaded a full gameplay video of the Community Remix.[4]

This marks the second time a full gameplay serves as a teaser through social media, after Firework.
Gallery
Game Files
In-Game Screenshots
Promotional Images
Beta Elements
Others
Videos
Gameplays
Olympic Version
Community Remix
References
v - e - d

Puppet/Party Master Modes