"The Greatest" by Sia is featured on Just Dance Unlimited and Just Dance Now.
Appearance of the Dancer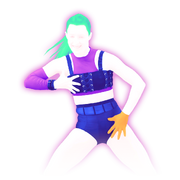 The dancer is a woman with long mint green hair tied in a ponytail with a light purple bra with an indigo cropped tank with matching high-waist shorts, an orange glove, and black and orange ankle boots.
Background
The background starts in a dark room where the dancer is kept in a pink translucent box. The background has glowing lights shined on the dancer with pink and purple thin neon light poles hanging down. When "Don't give up" is sung, the poles slowly disappear by the end of the verses, it cuts to a room with huge double-doors opening with several reflections of the dancer in various mirrors, some of which dance randomly while others mimic the coach's routine in a much wilder fashion. When the bridge comes, the dancer is sent to the same room in the verses, except with opposite colors. The pink box and floor are now bright orange, with the box just being out of thin lines flashing every few seconds, then sent to the mid-chorus part of the background, the repeats the background from the chorus.
Gold Moves
There are 3 Gold Moves in this routine, all of which are the same:
All Gold Moves: Open your arms in a semicircle while stomping your left foot.
The Greatest appears in the following Dance Quest map:
The Greatest is featured in the following playlists:
Just Dance Now
Trivia
General
The Greatest is the fourth song by Sia in the series.
Routine
Despite the coach's hair being mint green, the avatar's hair is light blue with purple streaks.
The routine uses slightly altered moves from the music video.
The menu banner has a cathode-ray tube screen effect.
In the earliest release of the routine, there were no special effects on the box walls when the coach performs this move. This was fixed after few days on the PAL version.
On the thumbnail for the US preview, the coach's outfit and hair have no shading effects, and the socks are orange instead of reddish.
The Greatest is affected by a glitch on Just Dance 2016: after the song is played, the game will unlock P4's avatar from Time Warp instead of the correct one.
In the Just Dance 2018 trailer for Just Dance Unlimited, the pictogram bar is affected by a glitch: when a pictogram reaches the end, another random one accidentally flashes before the correct one fades away.[1]

This glitch can also be seen in many preview gameplays for Just Dance 2018, as well as in some Just Dance Now previews.

For a limited period of time around and ending June 2018, The Greatest was free on Just Dance Unlimited.[2]
Gallery
Game Files
In-Game Screenshots
Promotional Images
Behind the Scenes
Others
Videos
Official Music Video
Gameplays
References
Community content is available under
CC-BY-SA
unless otherwise noted.