Remove the bandaids!

This article contains images or videos with watermarks. If possible, please replace them with non-watermarked media.
"Troublemaker" by Olly Murs featuring Flo Rida is featured on Just Dance 2014 and Just Dance Unlimited.
The song has a Sweat routine.
Appearance of the Dancer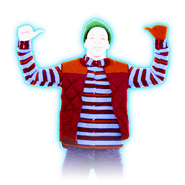 The dancer is a man. He wears a green beanie, a red, orange, and white striped long sleeve, a red and orange vest, blue skinny jeans, and red and orange sneakers.
Background
The background has circles and buildings that move around and a diner with a sign that says Olly's Diner. At some points of the routine, the background turns black with a spray painting of "Troublemaker" and the routine involves female silhouettes dancing with the dancer.
Troublemaker has a Mashup on Just Dance 2014 that can only be unlocked in the month of May.
Dancers
Troublemaker
The Power
Moves Like Jagger
She's Got Me Dancing
Superstition
D.A.N.C.E.
Superstition
D.A.N.C.E.
Wild Wild West (Extreme)
Troublemaker [GM]
Party Master Mode
Troublemaker has a Party Master Mode on Just Dance 2014. Here are the captions in order of appearance: (Captions in bold indicate a Song Switch.)
Troublemaker
Troublemaker
Gold Moves
Classic
There are 3 Gold Moves in the Classic routine:
Gold Moves 1 and 2: While facing the right side, put your hands on your chest and shake your shoulders.
Gold Move 3: Put your arms out.
Mashup
There is 1 Gold Move in the Mashup:
Gold Move: Put your arms out. (Troublemaker)
Troublemaker appears in the following Mashups:
Troublemaker appears in Party Master Modes. Here are the captions attributed to his dance moves:
All For Me
Charleston
Crab Dance
Me Me Me
Selfish
Slider
Trivia
General
Troublemaker is the second song by Flo Rida in the main series.
"Damn" and "hell" are censored.
In the Mashup and in the Party Master Mode, D.A.N.C.E.'s Gold Move is not counted as such.
Classic
Troublemaker is the fifteenth post-Just Dance 3 routine to receive changes in its pictograms, after Die Young, One Thing, Crucified, You're the First, the Last, My Everything, Ghostbusters, Bang Bang Bang, Leg Song, Karaoke Forever OK (Future Underworld Mix), Scream & Shout (both routines), Fine China (Extreme Version), Hey Mama, Gold Dust, and Never Gonna Give You Up.

Among them, Troublemaker is the second one whose new pictograms differ notably in color from the original ones, after Never Gonna Give You Up.

The diner in the background with the sign "Olly's Diner" is a reference to the main artist of the song, Olly Murs.
On some advertisements (most notably in the marketplace.xbox.com website) and on the Beta version of the Just Dance 2014 NTSC cover, the Classic coach appears with a different color scheme: his beanie is brown instead of green, his jacket, shoes and are in shades purple instead of shades of red and orange, and his jeans are greenish instead of denim blue.

It can be also noticed that his shirt is partially unbuttoned, partially revealing a mint green tank top underneath. This does not happen in the actual gameplay.

By analyzing three pictograms of the Just Dance 2014 version, the following mistakes can be seen:

In one of them, the arrow has some excessive colored pixels between the body and the right side of the triangle.
In another one, the arrow lacks its typical white outline.
In the one for Gold Moves 1 and 2, the shake emblem and the heart are not golden, and the former has no golden glow and keeps its regular color.

In Just Dance 2014, the Gold Move pictograms are more yellowish than brown, as opposed to other Solo Gold Move pictograms in the same game.
The coach makes a cameo appearance in the background of Uptown Funk.
The Classic routine was set to release on Just Dance Unlimited in April 2020 but was pushed to May due to health concerns related to the COVID-19 pandemic.[2]

Additionally, it was not meant to be free for one week.

For one week (from May 14 to May 20, 2020), Troublemaker and Woman Like Me were playable for free in Just Dance Unlimited.
On Just Dance Unlimited, when Flo Rida's lines is sung, the video glitches and freezes briefly, and the first lyric is highlighted too early.

This does not happen on Just Dance 2014.

A placeholder menu banner can be found in the Just Dance Unlimited servers.[3]
Mashup
The Mashup has a glitch: sometimes, the dancers do not appear and there is just the Classic coach's outline instead of them. However, pictograms are still displayed and players can still get points.
The pictogram that replaces D.A.N.C.E.'s Gold Move does not fade away.
Party Master Mode
The Party Master Mode has a glitch: whenever the caption "Rolling Hands" is selected, the preview of the dance move freezes.
A pictogram from I Will Survive is missing.
Gallery
Game Files
In-Game Screenshots
Promotional Images
Beta Elements
Others
Videos
Gameplays
Classic
Mashup
Party Master Mode
Extraction
References
Community content is available under
CC-BY-SA
unless otherwise noted.