| | |
| --- | --- |
| | This article is a stub. You could help this Wiki by expanding it. |
"Tui Zhi Ge (腿之歌)" by Lulu (黄路梓茵) is featured on 舞力全开2017, Just Dance Unlimited, and Just Dance Now. On Just Dance Unlimited and Now, the song appears as "Leg Song (腿之歌)".[3]
Appearance of the Dancer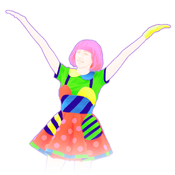 The coach is a girl dressed in cute, childish attire. She has pink bobbed hair, a green T-shirt with a pastel yellow and blue collar and some dark blue stripes, a high-waisted belt with blue stripes held by two circles (a red and a light yellow one), a red skirt with pink polka dots, two circles (a light yellow one and a green one) with dark blue stripes and green and pastel blue rectangles on the bottom, green socks, and red heels with a blue highlight. She has a white thin outline over a thin periwinkle outline in full opacity.
Background
The background is full of pastel geometric shapes. Fruits, vegetables, and pairs of dancing/jumping legs appear throughout. A polar bear makes a few appearances; numbers and Chinese characters appear during the pre-chorus and between the second and third choruses.
Gold Moves
There are 4 Gold Moves in this routine (1 on Just Dance Unlimited and Now):
Gold Moves 1 and 2 (removed on Just Dance Unlimited and Now): Put your arms on each side as if saying "I don't know".
Gold Move 3 (Gold Move on Just Dance Unlimited and Now): Clumsily walk backwards and shake your arms.
Gold Move 4 (removed on Just Dance Unlimited and Now): Transfer both arms from left to right.
Trivia
General
Tui Zhi Ge is the first Chinese-language song in the series that features Japanese lyrics.
In 舞力全开2017 the lyrics, "Lulu" is spelled as "L U L U" while in Just Dance Unlimited, it is spelled as "LU LU".
On Just Dance Unlimited via Wii U, the song title appears as "??? (Leg Song)" due to the console not being able to detect Chinese characters.

Lyrics that are in Cantonese are replaced with Pinyin lyrics.
Romaji lyrics were removed in the Just Dance Unlimited version.

Due to 舞力全开2017 never being released outside of China, on Just Dance Unlimited, Tui Zhi Ge was labelled as a Just Dance 2019 routine, it was later changed to be labelled as a Just Dance 2017 routine.

During the time it was labelled as a Just Dance 2019 routine, when the player searches for "2017" from the search tab, this song is listed under the list of Just Dance 2017 songs as well.

On Just Dance Now, Tui Zhi Ge was erroneously placed at the end of the "All Songs K-R" playlist.

However, lyrics were disabled.
On May 15, 2019, the song was properly placed in the playlist.
Routine
Gallery
Game Files
In-Game Screenshots
Promotional Images
Others
Videos
Official Music Video
Gameplays
Extraction
References
Community content is available under
CC-BY-SA
unless otherwise noted.