Rest in peace. You will be missed.
About User of the Week...

Justdancer30 has been User of the Week once! Cheers to him/her/them!

To learn more about the User of the Week, follow the link!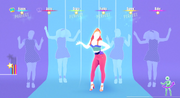 I'm Justdancer30! I've been here on the JDWiki for over a year now, and I'm just one of several great admins. To check out them, you can visit our homepage and there are links to each of them.
As I said, I'm an admin, which means I help keep this wiki safe. If you are ever having issues with other users, or have a question, see me!  I mostly help with conflicts and other problems of that sort.  Please don't see me for tech related things.  I am utterly terrible at helping with all of Wikia's features.
Badges
Current point total: 590
 Purchased Stickers!
Remember, please don't copy any stickers from anyone's pages!
About Me!
I'm a proud Meghan Trainor, Katy Perry, Taylor Swift, and Fall Out Boy fan.
I don't give away any personal information, such as age, location of where I reside, name, etc.  Please don't ask for it.
I adopted the Just Dance Wiki in May 2014, and pleased to say I am the one who technically brought the JDWiki into the state it is today.
I own Just Dance 3, 4, 2014, and 2015 all on Wii.  I have pre-ordered 2016 for Wii and am excited to play it!
Oh well, I'm out of random facts.  Yep, I'm that boring.  XD
Key Pages
Community content is available under
CC-BY-SA
unless otherwise noted.