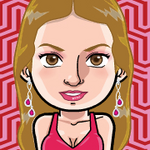 HoWaffles: Hey queens! It's HoWaffles.
Via: And Via!
HoWaffles: And you're watching this week's episode of Beat Yo Face: Fashion… Photo… RUVIEW!
---
HoWaffles: Today we will be Toot-ing and Boot-ing the set of looks from the eighth episode of Beat Yo Face: All Stars! Category is… All Star Eleganza Extravaganza!
Via: For their final runway, the queens were asked to dazzle us with the finest specimen of their drag!
---
First up, AmyNo iSaid!
HoWaffles: These looks are absolutely fantastic. I love how she infused her own heritage and culture for her final runway and the details help exemplify that! And by details, I mean that gorgeous deer mask with those decked out horns and that striking floral pattern that you can't miss! I think the reveal definitely helps the outfit, looking at the reveal now, I can't imagine this runway look without a reveal! I love how the floral theme continues in the reveal and I love how you can now see her quaffed hair. Plus, she has a mermaid gown on, and you know I love mermaid gowns!
Via: These looks are so elegant and dignified, yet still infused with Amy's usual sense of weirdness and fashion-forwardness. The deer mask is beautiful and so dream-like and elaborate with all the flowers growing out of its face and horns; I love that she chose to represent an endangered species from her home country. The first dress she presented isn't anything mind blowing but still so eye-catching and pleasing to look at with its color scheme, floral print and puffiness, and her post-reveal gown is simple, poised, and a streamlined continuation of the theme she had already established. Overall, this is a gorgeous set of looks that are perfect for this final runway.
HoWaffles: It's a Toot!
Via: Miss Amy gets a Toot!


---
Up next, DonutLikeMe!
HoWaffles: Just like Amy, I love how Donut incorporated cultural elements in her look. The whole oriental Japanese theme with all these illustrations and classic Japanese art is truly magnificent. These colorful illustrations really add on to the whole outfit and make the colors pop even more! I love the bell bottom pants in the reveal and the blue rope she has on her waist, as well as those yellow ropes on her arms. I do have one complaint though, I get what she was doing with the outfit and the reveal but she has close-to-no shape on her pre-reveal outfit whatsoever! The bell bottoms make the proportions look awkward with that oversized jacket.
Via: My first thought when I saw these looks was that the colors are stunning. This blend of purple, red, pink and gold gives it a lovely regal feeling that fits the traditional Japanese aesthetic of these looks like a glove. The wide coat is magnificent and I wasn't the biggest fan of the revealed look at first, but now I realize it's so sleek and stylish; I love the splashes of color in the kabuki and geisha portraits that contrast the overall blackness of the outfit and the ropes around her waist and wrists, even if I don't really understand why they're there. This was a really solid look, and a great one to go out on at that.
HoWaffles: Toot.
Via: It's a Toot!


---
Next up, Gingica!
HoWaffles: Let me start with my main complaint about this look, it's just too many reveals. Now that that's over, it's beautiful! It seems like there's a recurring theme with queens incorporating their cultures in their finale looks but I'm not complaining! I love the sea-inspired regal gown with all the stones and gradients and I love the scepter she's holding, adds on to that regal theme. What I love the most about the look is that sailor ship-esque wig, so campy and glamorous! However, I don't fancy the last look much, it's a badly constructed mermaid gown that looks like a costume almost and I don't really appreciate that mug on her either.
Via: Where do I start with this look?! This over-the-top, marine sea goddess couture is so elevated and breathtaking! I mean, the sheer amount of details we have here, from the sea horse scepter and golden chalice shaped like a face; the seashells making up the upper half of the dress; the gorgeous waves on the bottom all the way up to that opulent octopus headpiece - it's just out of this world! And then she revealed the blue wig with the model ships on it, which is just camp to a T; she truly outdid herself with this look and it might just be her best design ever. That is, until the reveal. I don't hate the mermaid outfit but it is pretty costumey and doesn't scream "eleganza extravaganza" to me like the first look did - if anything, it just cheapens the whole concept. Though I will say the mug is beautiful and the water dropping down from the ship on her wig - girl, THIS is drag.
HoWaffles: Toot.
Via: You know what? It's a... SHOOT.


---
Last but not least, OzQueen!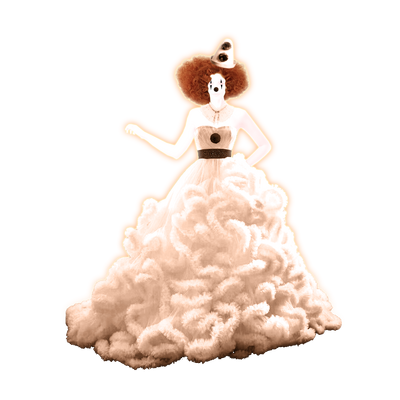 HoWaffles: I love this look because of its simplistic yet campy nature! It looks like the whole gown is made out of a swarm of worms and I don't really know how to explain it, but it's so visually satisfying! I love the clown theme she has going on, I guess that is OzQueen's culture. I love the details such as that small clown hat, the single button on her torso, the cut between the torso and the trail on her waist, the necklace, the clown nose, and that clown makeup! What I love most though is the color scheme, it all works together and I love how she's giving off this dreary and gloomy color scheme to a concept as colorful as clowns! I also love how she paired the brown in the clown details with the brown in the wig! Beautiful details for a beautiful outfit.
Via: OzQueen opted to not do a reveal and instead just presented us with this sensible clown fantasy, and it sure made her stand out! True to the OzQueen brand, this look is inspired by the design of the typical "sad clown", turned into a glamorously sober look: the cone-shaped hat, the neck piece, the wig being the only dash of color in the black-and-white color scheme, the intriguing poofy garlands adorning the skirt of her gown - it's all so simple yet powerful, as if she's saying "b*tch this is who I am, and I don't need no stunts". Okay, yeah, maybe I'm looking a little too deep into it but nonetheless, this is a fantastic creation.
HoWaffles: A strong Toot!
Via: A confident Toot!


---
TREND ALERT!
.
.
.
.
.
.
.
.
.
.
.
.
.
.
.
.
  Culture.
[AmyNo iSaid, DonutLikeMe, Gingica, and OzQueen's looks are displayed]
---
Our Top Toot of the week is....

.
.
.
.
.
.
.
.
.
.
.
.
.
.
.
.
.
.
.
.
.
.
.
.
.
.
.
.
.
.
.
.
.
.
.
.
.
.
.
Gingica!

HoWaffles: Iconic!
Via: Breathtaking!
---
HoWaffles: Well gals, All Stars is done and we have a winner on our hands!
Via: Yes! Condragulations to our newly crowned queen, OzQueen!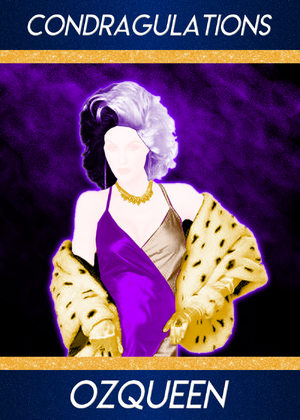 HoWaffles: We wish you a blessed journey and we can't wait to see what you do with the title!
---
Thank you for joining us on the last episode of Beat Yo Face: Fashion Photo Ruview for All Stars! Don't forget to check up on us once in a while, be cautious though, there might be… blood.
Via: Blood?!
HoWaffles: Yes, because our crowned queen has her own Beat Yo Face horror spin-off coming on the way! Make sure to not miss out on OzQueen's BloodGlam, coming soon!



HoWaffles & Via: See you later!
Community content is available under
CC-BY-SA
unless otherwise noted.