"Fight Club" by Lights is featured on Just Dance 2018, Just Dance Now, and Just Dance Unlimited. On Just Dance 2014 (Reboot), it is a DLC. Its Mashup is also a DLC on Just Dance 2014 (Reboot).
Appearance of the Dancer
The dancer is a woman with long, red, curly hair. She wears an olive green army jacket, a long, low cut, navy blue dress, a navy blue leg garter, short, red socks, and black ankle boots. The coach has an orange outline.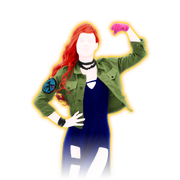 Background
The background takes places in a partially destroyed Japanese city with vegetation growing on the buildings, the girl being on top of a building with a destroyed wall. After a daytime sequence, the city goes into nighttime during each chorus. During the night, the signs of the buildings light up in left and right patterns. After the first chorus, the scenery turns into a drawn-out grayscale, with splashes of green and blue colors.
Gold Moves
Classic
There are 3 Gold Moves in the classic routine:
Gold Moves 1 and 2: Cross your hands across your chest, and lift your right leg up.
Gold Move 3: Throw your right leg out and punch your right arm to the side, then bring them back in.
Mashup
Gold Moves
There are 2 Gold Moves in this fanmade Mashup:
Gold Move 1: Shake both of your arms. (Call Me)
Gold Move 2: Hit the air with your right fist. (Gentleman (Sweat))
Mashup
Fight Club has a Mashup with the theme Girl Club. It is a DLC for the Just Dance 2014 Reboot.
Dancers
[GM#] - indicates a Gold Move. The # refers to the Gold Move's number.
D.A.N.C.E.
Applause
Cool for the Summer
Sayonara
Cercavo Amore
What You Waiting For?
Call Me [GM1]
Gentleman (Sweat) [GM2]
Fight Club
Fight Club appears in the following Mashup:
Trivia
The thumbnail for Fight Club's preview gameplay, which originally had leaked before the track confirmation on September 27, 2017, had the song's codename, Sidewinder, as the song's title.
Fight Club samples the oriental riff, a stereotypical series of notes often associated with oriental culture. This riff has also been used in Kung Fu Fighting.
"Let's put it all behind us and make love" is misinterpreted as "Let's put it all behind us and make up".
There is a lyric error involving the line "Comes to shove", where the "e" at the end is followed by a placeholder letter.

On 7th-Gen consoles and the Wii U, the placeholder is replaced with a question mark (?). [2]
On Just Dance Now, it is replaced by a rhombus with a question mark.

The dancer's hairstyle and outfit resembles that of Lights in her album and comic series, Skin and Earth.

The logo from Skin and Earth appears on one of the buildings in the background.

On October 2, 2017, the teaser previews were removed from the justdancegame channel.

They were made public again the following day.

Fight Club is one of three songs in Just Dance 2018 whose codename (Sidewinder) is the name of a snake; the others are The Way I Are (Dance With Somebody) (Cottonmouth) and Boom Boom (Copperhead).

Additionally, the coach's outline seems to be more luminous.

On the official Just Dance website, Fight Club is featured in place of Boom Boom.

The promotional gameplay was misnamed as "Iggy Aazalea ft. Zedd - BOOM BOOM 304601", too.

This song has a Beta Avatar.
Gallery
Game Files
In-Game Screenshots
Promotional Images
Beta Elements
Others
Videos
Official Audio
Gameplays
Extractions
References
Community content is available under
CC-BY-SA
unless otherwise noted.