Just Dance 4 is the newest installment in the hip, music/rhythm series. Since the orignal release, the game has captivated dancers around the globe with it's fun, easy-to-pick-up gameplay. Just Dance 4 adds several improvements to the formula, adding enhancements to several existing modes. Along with this, new modes have been introduced. The game includes 50 brand new music tracks, along with more included in downloadable content. Just Dance 4 will surely keep the party raging all night long.
Here are a few things you need to know about the newest installment of this franchise!
1. Dance Battle Mode
Brand new to Just Dance is the Dance Battle mode. In this mode players can challenge their friends to a 6 round dance battle. Songs in Dance Battle mode have unique duel routines. During the battle, the choreography and music changes in real time, depending on whoever is currently winning the battle. The ultimate winner gets bragging rights until the next dance battle begins!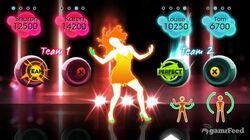 2. Puppet Master Mode
The Wii-U includes an exclusive feature, which introduces gameplay up to five players. The Puppet Master Mode allows the player who operates the Wii U Gamepad to switch and change dance routines that are being mimicked by the other players. These changes happen in real time. The operate of the Wii U Gamepad has the power to create and alter choreographies, choose playlists, the ability to write on-screen dedications, and take pictures and video to share!
3. Dance Quests
Dance Quests are specific missions for each song that can be completed by players. There are a total of six missions for each song, and completing them can add points to your Mojo. Not only that, players can create Dancer Cards which can display their favorite or most played songs, their highest scores, completed challenges and more. Online leaderboard support has been confirmed for Wii U, PS3, and Xbox 360. Completing some Dance Quests could also unlock alternate dance routines.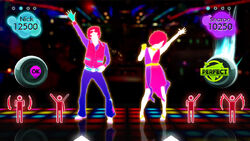 4. Just Sweat Mode Improvements
The game's Just Sweat mode has been repackaged and expands on the mode's previous versions. Players can now create their own personalized workout sessions. Workouts can use a timer to determine the length of the workout, as well as an estimated calorie counter. The Five workout sessions included in the latest version include Aerobics in Space, Sweat Around the World, Electro Body Combat, Cheerleaders Boot Camp, and Swinging 60's Workout.
5. Alternate Dance Routines
Certain tracks in the game have alternate dance routines that can be selected and played. These alternate moves are unlocked in various ways, including scoring high on songs, or purchasing them as downloadable content. Some alternate dance routines include Umbrella by Rihanna, with moves mimicking that of an Umbrella. A line dance version of Jailhouse Rock by Elvis, and 2 Unlimited's Tribal Dance with Katana-wielding dance moves.