Fire Emblem Warriors: Three Hopes - The Loop
Play Sound
Remove the bandaids!

This article contains images or videos with watermarks. If possible, please replace them with non-watermarked media.
This article is about Cher Lloyd's song. You may be looking for The Jackson 5's song with a similar name.
"Want U Back" by Cher Lloyd featuring Astro is featured on Just Dance 4, where it appears on-disc for the Wii U, and as a downloadable track for all other systems.
The track later reappeared as a downloadable track in Just Dance 2015, before appearing in Just Dance Now, Just Dance Unlimited, and 舞力无限.
Appearance of the Dancer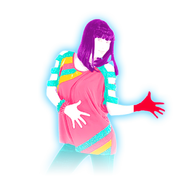 The dancer is a woman with short magenta hair in a bob (reaching down to collarbone size). She wears a pink poncho with light blue short sleeves and light blue and yellow diagonal stripes, two spiky bracelets (a pink one over a light blue one) around her left wrist, light blue jeans and aquamarine platform booties with yellow bows on them. Her outline is light blue.
Background
The dancer is standing on a checker-style platform with different shades of red. A large red spotlight shines in the background. Photographs of the dancer ruining various dance routines in the same game also rain down, including those of Good Feeling, We No Speak Americano, Rock Lobster, and Cercavo Amore.
Gold Moves
There are 4 Gold Moves in this routine:
Gold Moves 1, 2 and 3: Lift your right arm and leg, and point your right hand in the air.
Gold Move 4: Put your hands beside your head and spin your head in a circle.
Want U Back appears in the following Mashup:
Dance Quests
Note that these Dance Quests are only available on the Wii U.
One player gets 3 stars
One player gets 4 stars
One player gets 5 stars
Get all Gold Moves
Get the "Poser" Dance style
Get GOOD when "I want you back" is sung
Want U Back appears in the following Dance Quest map:
Want U Back is featured in the following playlists:
Just Dance Now
Trivia
General
Want U Back is the first song by Cher Lloyd in the series.
On the Wii U version of Just Dance 4, the final lyric of the song reads "Just sound like a helicopter/Brrrrrrrrrr...". However, in other versions, it reads, "Does this sound like a helicopter?/Brrrrrrrrrr...".

On all the successive games, the lyric is shown as "Just sound like a helicopter/Brrrrrrrrrr..." for all consoles.

On the downloadable version on Just Dance 2015, the line "Thought I needed to upgrade" is misinterpreted as "So I needed to upgrade". This was not the case for the Wii U version.
"S**t" is censored.
Routine
Throughout the dance, there are pictures of the dancer ruining pictures of other routines, in a manner commonly known as "photo-bombing". The routines are, in order of appearance:
Want U Back is the only routine from Just Dance 4 that was featured on Just Dance 2015 without also being featured in Just Dance 2014.

It is also the only routine from Just Dance 4 that was exclusive to the Wii U that was available in other consoles.
It is also the only one to return as a downloadable track in a future game.

Whenever Want U Back is played in Just Sweat, no calories will be counted for. The Sweat Bar on the top will still be taken in account, however.

This is the also the case with Domino.

The routine appears in the music video for Oath.
Gold Move 4 is represented by two pictograms in the Just Dance Now files, the one with the arrow and the one without the arrow.

The one without the arrow is a Beta element.

On Just Dance 2015, for the Xbox 360, Xbox One, and PlayStation 4 (camera), fewer moves are counted for than on Just Dance 4.
Gallery
Game Files
In-Game Screenshots
Promotional Images
Behind the Scenes
Beta Elements
Others
Videos
Official Music Video
Gameplays
Extractions
References