Remove the bandaids!

This article contains images or videos with watermarks. If possible, please replace them with non-watermarked media.
"What Makes You Beautiful" by One Direction is featured on Just Dance 4 and Just Dance Wii U.
Appearance of the Dancers
Classic
The routine is performed by a dance crew of all males. All of the coaches are wearing tuxedos, with the only difference being the color of their shoes, bow ties, hairstyles, and the inside of their blazers.
P1
P1 has short hair, and has pink accents.
P2
P2 has curly pompadour hair, and has turquoise accents.
P3
P3 has short straight hair, and red accents.
P4
P4 has short curly hair, and purple accents.
Extreme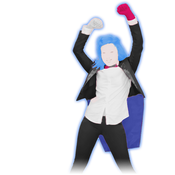 The extreme dancer is a woman with light blue hair. She wears an identical tuxedo to the coaches from the classic mode, a hot pink bow tie, and hot pink heels.
Background
The background is a white-and-pink paneled floor with squares. There are also stars and lights that flicker in rhythm. At some parts of the choreography, you can see sparks coming out from the cliffs.
Gold Moves
Classic
There is 1 Gold Move in the Classic routine:
Gold Move: Simply punch and with your opposite hand, hold your arm. P1 and P4 punch upward while P2 and P3 punch downward. P1 and P3 use their left hand, and P2 and P4 use their right hand.
Extreme
There are 6 Gold Moves in the Extreme routine:
Gold Moves 1 and 2: Put your left hand on your right hand and push them to the lower right, pointing the screen.
Gold Moves 3 and 4: Kick your right leg backward and bring both hands down in a circle.
Gold Move 5: Quickly punch the air three times with your right hand.
Gold Move 6: Fall to the ground with your legs backward and raise both hands in a triangle.
Dance Quests
All 4 players get 3 stars
One player gets 5 stars
Get 5 stars on the Dance Mash-Up
Get 5 stars on the Alternate Version
Get all Gold Moves
Get GOOD when "What makes you beautiful" is sung
Mashup
What Makes You Beautiful has a Mashup which is available on all platforms on Just Dance 4.
Dancers
Step By Step
What Makes You Beautiful (Extreme)
That's The Way (I Like It)
Step By Step
Let's Go To The Mall
So What
Crazy Christmas
What Makes You Beautiful (Extreme)
Crazy Christmas
Puppet Master Mode
What Makes You Beautiful has a Puppet Master Mode on the Wii U. Here are the captions in order of appearance:
What Makes You Beautiful (Extreme)
What Makes You Beautiful (Extreme)
What Makes You Beautiful appears in the following Mashup:
Classic
Extreme
Extreme
Headbang
Hold Your Hand
Tuxedo Girl
Wing It
Trivia
General
Classic
What Makes You Beautiful is the first all-male Dance Crew in the series.

It is also the only Dance Crew from a past Just Dance game to be featured on Just Dance Wii U.

What Makes You Beautiful is the first multiplayer routine in the series where the pictograms have the same color as the coaches' gloves.
Both code names for What Makes You Beautiful are the longest in the main series, with 21 letters.
What Makes You Beautiful is the only non-solo routine to have a Puppet Master Mode in Just Dance 4.
After receiving over 98 million views on the GamesNewsOfficial channel, What Makes You Beautiful has been the most-watched Just Dance routine in the series.[7][8]
What Makes You Beautiful is available in the demo version of Just Dance 4, along with So What and The Final Countdown.
In the Wii U title screen for Just Dance 4, P3's shoes, glove, suit, and bow tie are green instead of red.
What Makes You Beautiful made an appearance in the music video for Shane Dawson's "Maybe This Christmas", along with (I've Had) The Time Of My Life.
Some new sound effects are added in Just Dance Wii U.
On Just Dance 2015, P2's avatar no longer has his black collar.
A parody of What Makes You Beautiful appears in the Hebrew TV show מועדון לילה.[9], where the original coaches are replaced by real-life recordings of three men and one woman in black suits and light blue shirts, whose faces are replaced by cartoony caricatures through CGI.

Oddly, the HUD is based off the one from Just Dance 2015.
Extreme
In the Puppet Master Mode, the (solo) Extreme coach appears in place of the Dance Crew.
The Extreme Versions of What Makes You Beautiful and Wild Wild West are the only ones in Just Dance 4 that do not use the Extreme background.
In the Mashup and Puppet Master Mode, the dancer's bow tie, glove, and shoes are in a shade of dark red instead of pink.
Mashup
A pictogram from Never Gonna Give You Up is absent.

Besides, the coach's moves have been slightly slowed down while he fades away.
Puppet Master Mode
There is a glitch in the Puppet Master Mode: when the Extreme Version coach reappears at the end, the pictograms do not slide in until the dancer appears herself, resulting in the pictograms appearing all of a sudden.
Gallery
Game Files
In-Game Screenshots
Promotional Images
Beta Elements
Others
Videos
Official Music Video
Gameplays
Classic
Extreme Version
Mashup
Puppet Master Mode
Extractions
Others
References
v - e - d

Puppet/Party Master Modes
Community content is available under
CC-BY-SA
unless otherwise noted.