"Wherever I Go" by OneRepublic is featured on Just Dance 2017, 舞力全开2017, Just Dance Now, and Just Dance Unlimited.
Appearance of the Dancer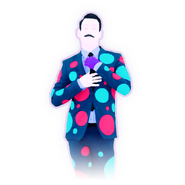 The coach is a man with short black hair and a mustache. He wears a navy blue suit along with pink and turquoise polka dots, a cobalt shirt, a black tie, and black penny loafers.
Background
The routine takes place in a nighttime metropolis. The coach dances into many different pink and light blue large screens at a time. Many of them contain a silhouette of All About That Bass. The man appears in many different billboards of different colors and animated features throughout the song. One of them is a sunny field with lyrics and the aforementioned silhouettes. Just before the chorus, he is then seen on a longer board, which is pink and repeats the word "Same". In the chorus, it turns into an octagonal screening that is a pattern of blue and pink. The man falls throughout the pink panel from earlier and lands on the ground, where he is seen within the backgrounds of Cheap Thrills, Don't Stop Me Now, and Ghost In The Keys. He then returns to the same previous pattern of billboards. Just before the song ends, he stays within the pink paneling. Echo effects are seen at the end of the routine.
Gold Moves
There are 2 Gold Moves in this routine:
Gold Move 1: Swerve to the right and pull your right hand up across your body.
Gold Move 2: Clean your "suit" with your right arm.
Wherever I Go appears in the following Dance Quest maps:
Trivia
General
Routine
Some silhouettes of All About That Bass' coach appear in the digital screens.
The routine's background was inspired by the music video.
During the instrumental break, a giant billboard shows the coach superimposed on backgrounds from Cheap Thrills, Don't Stop Me Now, and Ghost In The Keys.
The song is part of the Cool Kids Dance Quest, despite the fact that the dancer is a man, and not a teenager, unlike Can't Feel My Face and Groove.
Wherever I Go was one of the songs selected for the digital qualifications of Just Dance 2016 World Cup.[2]
In the loading screen, the coach is seen with a yellow shirt.
Gallery
Game Files
In-Game Screenshots
Promotional Images
Beta Elements
Others
Videos
Official Music Video
Gameplays
References
Community content is available under
CC-BY-SA
unless otherwise noted.