"Worth It" by Fifth Harmony featuring Kid Ink is featured on Just Dance 2017, 舞力全开2017, Just Dance Unlimited, and Just Dance Now.
Appearance of the Dancers
Classic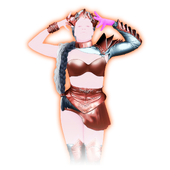 The dancer is a woman with black hair with a silver streak. She is wearing a pink-gold gladiator outfit. Her hair is long and braided. She wears a black and copper headpiece, a black patent sleeve on her left arm, a copper strapless bra and skirt, and black and pink-gold thigh-length high heel boots. She exudes a magenta aura.
Extreme Crew Version
All four coaches in the Extreme Crew Version are women with black hair. They wear red bras, black skinny jeans with large holes in the right leg, single golden shoulder pads (P1 and P3 have them on their left shoulders while P2 and P4 has them on their right), high waist mesh leggings, black biker boots with golden straps, and dark sunglasses. They are differentiated by different hairstyles and the colors of their caps and gloves.
P1
P1's half cap and glove are sky blue and has a long ponytail.
P2
P2's half cap and glove is lime green and has braided pink and black pigtails wrapped in a golden ribbon.
P3
P3's half cap and glove is blood orange and has three buns on the back of her head.
P4
P4's half cap and glove is royal purple and her hair is braided in cornrows.
Background
Classic
The dancer is standing on a silver platform with pink shining circles. There are two gigantic silver female statues facing each other and both holding a battle ax, with its blades curved like a pair of angel wings. The statues and railings get highlighted a hot pink. She and her platform get near the statues, with the sky turning blue, pink, and purple. The ax is zoomed into, with its center and base flashing pink and its blades flashing light blue.
At the end of the final pre-chorus, the eyes of the statues glow red.
Extreme Crew Version
The background appears to be the end of a secluded alleyway, with fire escapes, windows that are themed after traditional Hindu shapes, and construction scaffolding. During the actual song, the windows will flash in time with the music. The alley is covered in the fog that changes color depending on what color the background is. During some points of the song, the background will have a yellow beam of light above the dancers. The sides of the background will occasionally spit out fire. The song ends with the screen fading to black.
Mashup
Worth It has a Duet Mashup with the theme "Tease me". The Mashup features Male/Female duet routines where dancers turn to face each other.
Dancers
Promiscuous (Remake)
Get Low
Get Low
Mamasita (Remake) [GM1-P1] [GM2-P1]
Jambo Mambo
Mamasita
Get Low [GM3-P1] [GM1-P2]
Mamasita [GM4-P1] [GM5-P1]
Jambo Mambo
Bailando
Mamasita
Get Low [GM6-P1] [GM2-P2]
Promiscuous
Kurio ko uddah le jana (Remake)
Mamasita
Promiscuous
Gold Moves
Classic
There are 4 Gold Moves in this routine:
Gold Move 1: Put your hands up near your head.
Gold Move 2 and 3: Slowly throw your arms up near your head.
Gold Move 4: Throw your hands upwards.
Extreme Crew Version
There are 3 Gold Moves in the Extreme Crew Version routine, all of which are the same:
All Gold Moves: Bring your left arm up and your right arm down. Then your right arm up and left arm down quickly.
Mashup
There are 6 Gold Moves for P1 and 2 Gold Moves for P2 (both of which are the same) in the Mashup:
Gold Moves 1, 2, 4, and 5 (P1): Fan yourself with both hands. (Mamasita)
Gold Moves 3 and 6 (P1)/Both Gold Moves (P2): Bring out your arms and briefly shake them. (Get Low)
Worth It is featured in the following playlists:
Classic
Just Dance 2019
Just Dance Now
Galactic Groove!
Hall Of Fame
All Songs S-Z
Just Dance Unlimited
Hall Of Fame
Unlimited S-Z
Princess
Just Dance 2017
Extreme Crew Version
Just Dance 2019
Just Dance Now
The Fit List!
All Songs S-Z
Just Dance Unlimited
Extreme
Unlimited S-Z
Quartet
Just Dance 2017
Trivia
General
Worth It is the first song to have an Extreme Routine that is not a Solo routine.
Worth It is the third routine whose pictograms match the coach's glove color and whose arrows match the coach's outfit color instead of the opposite, after Idealistic and Rock N Roll.
Worth It is one of the routines selected for the digital qualifications of Just Dance 2016 World Cup.[4]
Classic
The background in the menu icon looks more like sunset or sunrise in the background; however, the actual background is set at daytime.
On camera consoles, the move where the dancer crosses her left foot in front of her right foot is counted when performed during the first verse, but not during the second verse.
In the preview, the pictogram color is light brown instead of magenta, and the arrows are fuchsia instead of brown.
In some promotional images, the dancer is seen in a different color palette.[5]
In a promotional image, the coach's glove is accidentally on her left hand.
Sometimes, a very unusual glitch happens when playing Worth It on Just Dance 2017 via World Dance Floor for 8th-Gen consoles: some avatars from the game appear instead of the pictograms.[8]

Among them, two Beta avatars can be seen: one is for Single Ladies (Put a Ring on It) (which uses her Beta color scheme), and one is for Bailar (which has a blue outline instead of a purple one).
Extreme Crew Version
If P2 is switched with P3, the color of their hats and gloves will be the same pattern as the star bar and the coach selection menu for Dance Crew routines.
The avatar for P2 is wearing an orange hat instead of a green one.
Oddly, the Extreme Crew Version has fewer pictograms than the Classic routine. The former has 114, while the Classic routine has 181.
Two pictograms present the following anomalies

The first one of the pictograms, the shake emblem over P2's right arm is accidentally red instead of green.
The second one, which is for the Gold Moves, shows white trails of pixels near the arms.

The album coach is mirrored on the Just Dance Unlimited cover.
Mashup
The Mashups for What Is Love and Worth It are the second and third multiplayer Mashups where one coach has more Gold Moves than the others (in this case, P1 has six Gold Moves while P2 has only two), after that for Born This Way.
The Just Dance 3 version of Jambo Mambo is used instead of the remake, and P1's pictograms from Kurio ko uddah le jana have a more saturated hue.
On the Wii U, a double karaoke bonus is accidentally awarded after playing the Mashup.
In the menu icon, P2 of Get Low is seen floating due to the absence of his platform from the original square.
Gallery
Game Files
In-Game Screenshots
Behind the Scenes
Promotional Images
Beta Elements
Others
Videos
Official Music Video
Classic
Extreme Crew
Gameplays
Classic
Extreme Crew Version
Mashup
Extractions
References
v - e - d

Puppet/Party Master Modes
Community content is available under
CC-BY-SA
unless otherwise noted.