"Yeah!めっちゃホリディ" ("Yeah! Meccha Holiday") by Aya Matsuura (松浦 亜弥) is featured on Just Dance Wii 2.
Appearance of the Dancer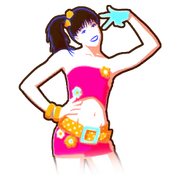 The dancer is a female teenager with brown hair styled with bangs and a high side ponytail, with a hairband that contains two orange beads supporting on the ponytail. She wears a pink strapless tube top with orange and cyan flowers decorated on the top and bottom parts and hot pink shorts with orange and cyan flowers. She also wears a large orange belt with a cyan buckle and purple boots with yellow cloth bands tied on the top. Her accessories include orange bangles on her left wrist. She has a thin brown outline.
Background
The background is a bedroom with yellow walls and wooden floor. There are a red fan on the left, a red carpet, a white table on the right with an ice cream cup on it, a sky blue bed with a basket and two pink puppets, a full book shelf, two sunflowers with sunglasses, and several other objects on the wall (such as sticky notes, a yellow clock and a calendar opened on the August page). The door is green and constantly opens throughout the routine, revealing a grassy meadow (which is replaced by a shore with a bench and a palm tree in the final part of the routine).
Gold Moves
There are 6 Gold Moves in this routine:
Gold Move 1: Put your left hand on your hip and curve your right hand upwards.
Gold Moves 2 and 5: Just point to the left, but upwards with your right hand while your right leg is up.
Gold Move 3: Point your left hand up and right hand down.
Gold Move 4: Shake both hands.
Gold Move 6: Point to yourself with your right hand.
Trivia
The following Easter Eggs can be spotted throughout the routine.

Pop Star (P2) makes an appearance before the second verse.
Both coaches from Love Revolution 21 appear on the poster. Whenever "Morning Musume" is sung, they start moving their legs.
The background of Mickey (Hawaii version) appears at the end of the routine.

The first lancet of the clock spins very quickly, while the second one is completely motionless.
The background and outfit were inspired from the music video.
The cyan parts in the coach's outfit is lighter and has a full opacity outline in the menu assets.
The avatar has a lighter hair color than the actual coach.
The pictograms telling to move from one side to another have white arrows instead of blue arrows (which would match the coach's glove).
Gallery
Game Files
In-Game Screenshots
Others
Videos
References
Community content is available under
CC-BY-SA
unless otherwise noted.