Fire Emblem Warriors: Three Hopes - The Loop
Play Sound
"Zenit" by ONUKA is featured on Just Dance 2021, 舞力无限, Just Dance Unlimited, and Just Dance Now.
Appearance of the Dancer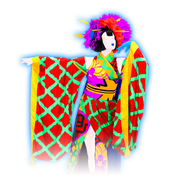 C1
The dancer is a woman with blue lipstick on her lips who dresses like an Oiran. Her hair is black, with straight side hair and bangs that are bare at the sides, while the back of her hair is tied in a large thick bun similar to a date-hyōgo. Her hair is adorned with various hair accessories, with four golden kanzashi hairpins strategically placed in her hair, a large red frilly pom-pom attached on the right side of her hair, and two large flower-like purple accessories with blue centers. She wears a heavily stylized kimono of the furisode style, with detached long sleeves and open skirt. The collar and the tomoeri is turquoise with a yellow line and dark yellow seed-like designs, the left side is mainly purple with a golden flower pattern, and the right side is turquoise with yellow fan-like patterns, and large red circle with purple borders and black line designs. The open skirt has the similar design, but with the left side having the patterns of the right side and vice versa.
An obi is tied in her waist, with a purple base color and yellow leaf-like pattern with black outlines, and large deep blue fabric tied in a bow with two free-flowing fabric at the back. Her sleeves are very large, with patterns of turquoise with vague red diamond-like shapes, and ends with golden sleeves with very faint patterns. Additional long fabric is also seen with a similar pattern tied on her right hip. She also wears purple tabi socks and black geta with a red fabric thong. She has a blue, fading outline. Her glove is light blue.
C2
During the drops, the dancer's outfit transforms into a different outfit. Her hair is black and tied into two long segmented ponytails. She has an Oni-inspired bright red dragon mask with long sharp horns, black eyes and markings, four golden horn tips and a golden sharped diamond that is located on her forehead, and a golden nose ring. She wears a black lined top with cleavage, a golden bullet-shape embellishment and golden tassels, with strings attached to the embellishment. Her shoulders contain large, three-layered shoulder pads with black skeletal frames and black semi-transparent fabric, and her back has a long, stiff cape with similar design to her shoulder pads, which is attached on her back by a dark gray portion of her top. She also wears a long, blood red flowing skirt that are split in the sides of the front part of her skirt, revealing her legs that wear black leather leg sleeves, which leave the kneecaps visible, and black block high heels. She also wears golden bangles on both arms. She exudes a golden flame-like aura as her outline. She has a magenta glove.
Background
In the verses and choruses, the background is white with a mountainous landscape, trees, birds flying, a pagoda, and a red concentric circle appearing with an ink-wash effect, bearing slight resemblance to the Japanese flag. There are also cherry blossoms throughout the routine. During the beat drops, it is exactly the same, except for the background, which changes color from white to red with a black mist and has silhouettes of C1 and C2. Torii, traditional Japanese gates, can be seen in the chorus, as well as a pagoda. After the chorus, the background cuts back to a white background with koi swimming and ripples painted in the style of sumi-e. During the interlude, red spider lilies appear. At the end of the final chorus, a black ink-like effect appears.
Gold Moves
There are 2 Gold Moves in this routine:
Gold Move 1: Put your arms down and bend your legs slightly.
Gold Move 2: Bend your legs, tilt your head up, and put your arms in an upwards flexing position.
Zenit is featured in the following playlists:
Just Dance 2021
Trivia
Zenit is the first Ukrainian-language song in the series.

Although Ukrainian is written in a Cyrillic script, unlike the Russian-language songs that have appeared in previous games, the lyrics for Zenit are written in their romanized form in a Latin script.

Zenit is the first song in the entire series that has a title that starts with the letter "Z".

It is hence alphabetically the last song to appear in the series.

In the "Just Dance 2021 Official Songlist Part 1" video, a frame of the routine comes before the transition.
Although the song has a tempo of 140 BPM, the pictogram bar beats at 70 BPM.
Gallery
Game Files
In-Game Screenshots
Promotional Images
Behind the Scenes
Others
Videos
Official Music Video
Gameplays
Extractions
References